Here's why Kristen Welker will dominate as moderator during tonight's final debate
Everything you need to know about the Trump-Biden moderator before tonight's final debate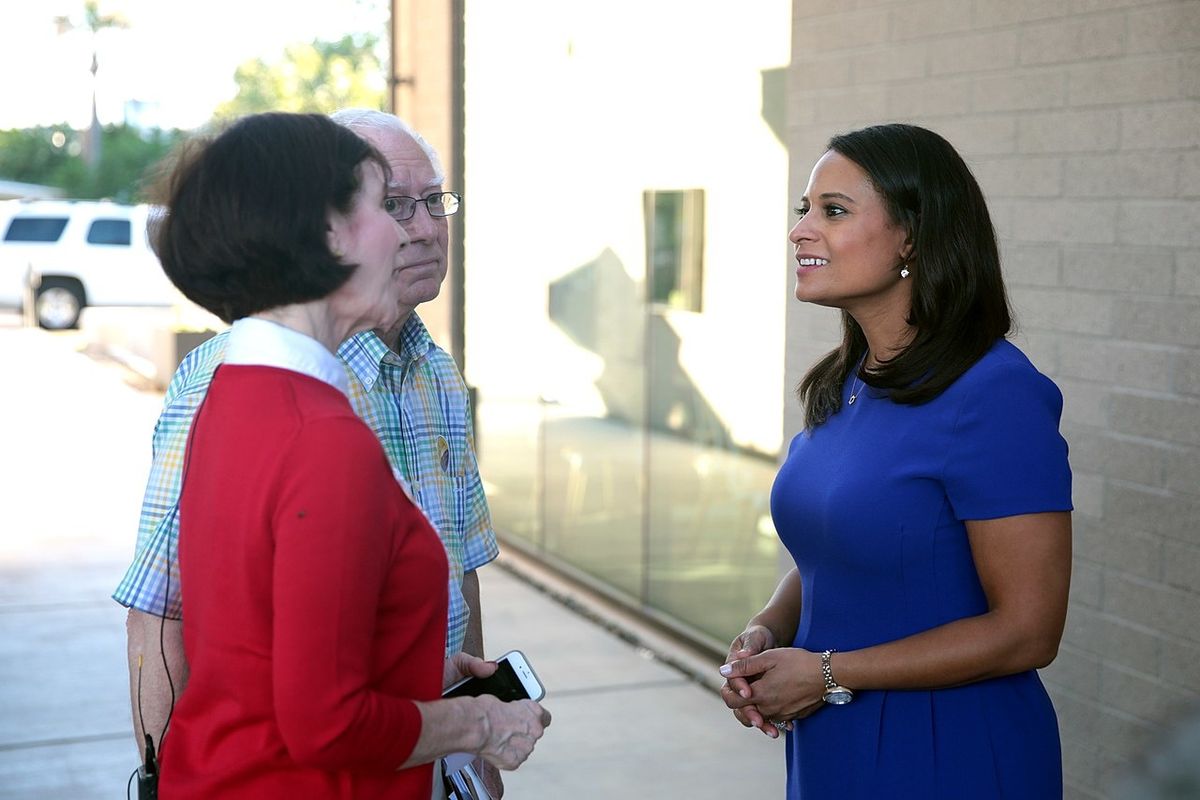 Both presidential and vice presidential debates have been interesting, to say the least. We've seen moderators come and go, all of which had difficulty managing the job they were tasked with. This, and final, time around the task of moderator falls onto Kristen Welker from NBC News.
Welker will be responsible for maintaining a semblance of order between Joe Biden and Donald Trump throughout the final presidential debate Thursday evening. Although the idea of preventing two, adult men from arguing may sound arduous to some (myself included) Welker seems like the perfect candidate for the job.
Apart from ABC News journalist Carole Simpson, who was the first Black woman to moderate a presidential debate in 1992, Welker is only the second Black woman to moderate a presidential debate solo. Here are a few other interesting facts about Welker we can't stop obsessing over.
This isn't her first rodeo
Although Welker makes history has the second Black woman to moderate a presidential debate solo, this isn't her first time moderating. Last November, Welker co-moderated a Democratic primary presidential debate alongside MSNBC's Rachel Maddow, NBC's Andrea Mitchell, and Washington Post's Ashley Parker. That particular debate included former Vice President Joe Biden and California Sen. Kamala Harris. So it's safe to say Welker knows what she's doing.
She's a Philadelphia native
Welker was born on July 1,1976 in Philadelphia, PA. She studied American history at Harvard College, graduating in 1998 before interning at TODAY. While living in Philly, Welker worked at WCAU for five years, which is the NBC affiliate in of Philadelphia. She now resides in Washington. D.C., where she holds the title of White House correspondent for NBC News.
She's been an NBC News correspondent and anchor for years

Some of you might remember Welker as the NBC News reporter who remained calm when lightening equipment fell around her while reporting on the Coronavirus in April. But Welker has been at NBC since 2010. In 2011, she became a White House correspondent, later being promoted to Weekend TODAY co-anchor in January 2020, due to her incredible coverage of the NBC News' 2016 campaign.
Trump already dislikes her
What else is new?
Trump's disdain towards the media, primarily NBC News, is nothing new. However, Trump has been especially critical of Welker in large part of her being a Democrat. Trump referred to Welker as a "radical Democrat" who has been "screaming questions" at him for a long time, according to this Vanity Fair story. In addition, Trump retweeted a post his son, Donald Trump Jr, posted about Welker, commenting, "She's always been terrible & unfair, just like most of the Fake News reporters, but I'll still play the game. The people know!"
Classy guy.
She's always been terrible & unfair, just like most of the Fake News reporters, but I'll still play the game. The people know! How's Steve Scully doing? https://t.co/uS3EWzfFPy
— Donald J. Trump (@realDonaldTrump) October 17, 2020
Her biracial background inspired her to become a journalist

In June, Welker told Glamour how growing up biracial originally inspired her to become a journalist.
"Growing up as a biracial child, the idea of helping people of different races and backgrounds better communicate inspired me to become a journalist," Welker stated.
Amidst George Floyd death, Welker told the magazine she felt that same sense of civic obligation amid protests.
With protesters demanding change after George Floyd's death, it is more important than ever that everyone has a voice and elected leaders from the White House to City Hall are held accountable for their words and actions, or lack thereof," Welker said.
So there you have it. For anyone doubting Welker's credentials (ahem, Donald!) please refer to the above and retract your previous statement.