I couldn't help think that this was an adorable way to put people in a better mood.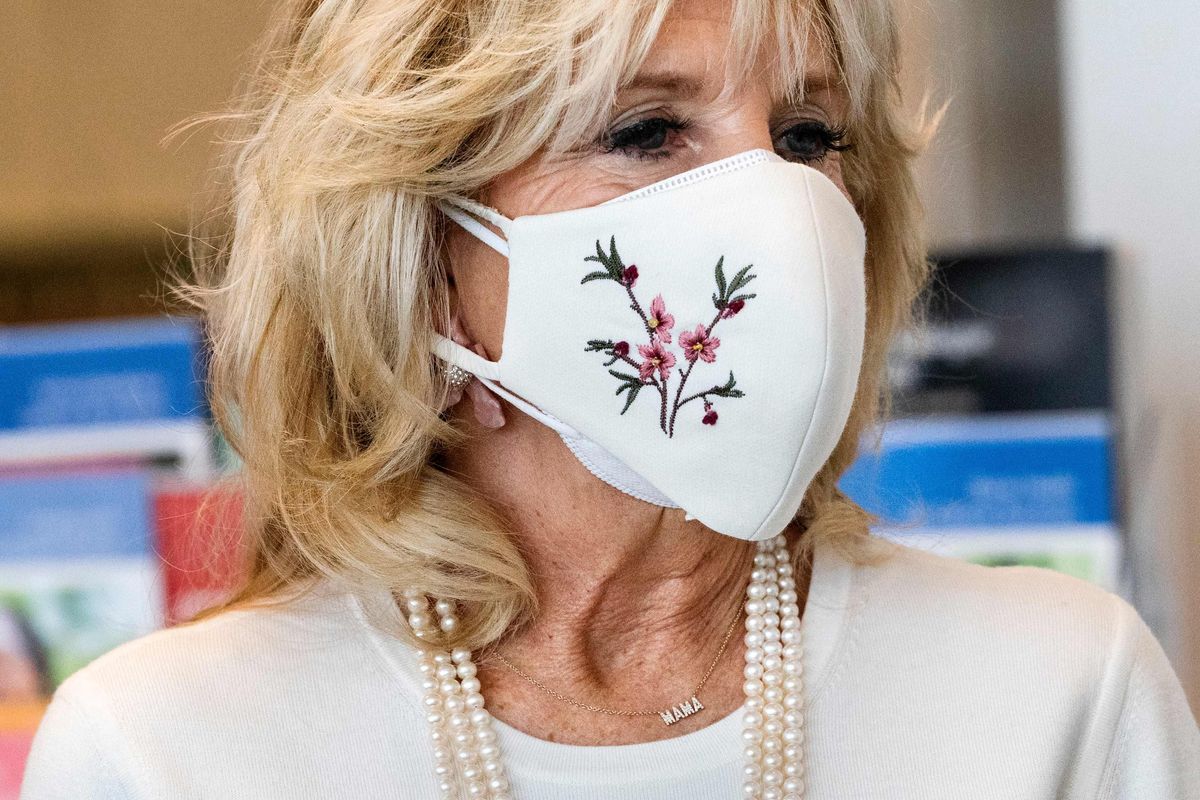 Photo by JACQUELYN MARTIN/POOL/AFP via Getty Images
On any given day, I always scroll through social media to see the latest news. Sometimes, the content that pops up on social media happens to be utterly mean, heartbreaking, or chaotic, especially when it comes to politics, the pandemic, and the world.
But on a chilly, icy day like today, I saw something that warmed my heart.
---
In a Twitter video from NBC, First Lady Dr. Jill Biden and President Joe Biden were seen drinking coffee on the White House lawn with first pups, which was a sweet sight. However, the icing on the cake was seeing the spirited decorations on the lawn for this wholesome moment.
The red, pink and white heart cut-outs say positive things such as healing, kindness, compassion, courage, love.
I couldn't help think that this was an adorable way to put people in a better mood. The First Lady could also attest to this sentiment.
"I just wanted some joy ... With the pandemic, just everybody's feeling a little down", said the First Lady when asked about what inspired the Valentine's Day art installation. "So, it's just a little joy. A little hope. That's all."
Her response put a lot into perspective for me when it comes to America. A lot has happened in the past year from the pandemic.

Millions of people lost their jobs. Some have unfortunately contracted the virus and passed away, and the political terrain within the Trump administration was tense to the point that we started to see the residuals. For example, the atrocity of the insurrection of Capitol Hill, Trump resigning from SAG-AFTRA rather dramatically, and the impeachment trial, to name a few.
Within the instances, as described above, words like "hope" and "joy" might have been few and far between.
But with the new administration that encourages growth, compassion, perseverance, and the will to move forward, despite the past, it's hard not to begin to feel that there is a chance that positive transformation is within the midst.
Furthermore, hearing and seeing the message of wanting to bring a little more joy into a world that has dealt with a lot in the past year inspired me. Why? Because the message doesn't make the promise that this is the only way to spread "a little hope."
It seemed like a testament to the idea that there are silver linings. It also seems like an amazing way to show appreciation for the little things in life through the lens of compassion.
Whether that is seeing lovely decorations or positive phrases, it can all prove to be worthwhile in the long run. We just have to embrace the hopeful journey.
Have you got something to say about this subject? Submit a post here and start the conversation.