The significance behind Kamala Harris' suit is a beautiful touchstone to female equality
Dressed head to toe in white, the Vice President-elect sends a clear message to generations of women who paved the way before her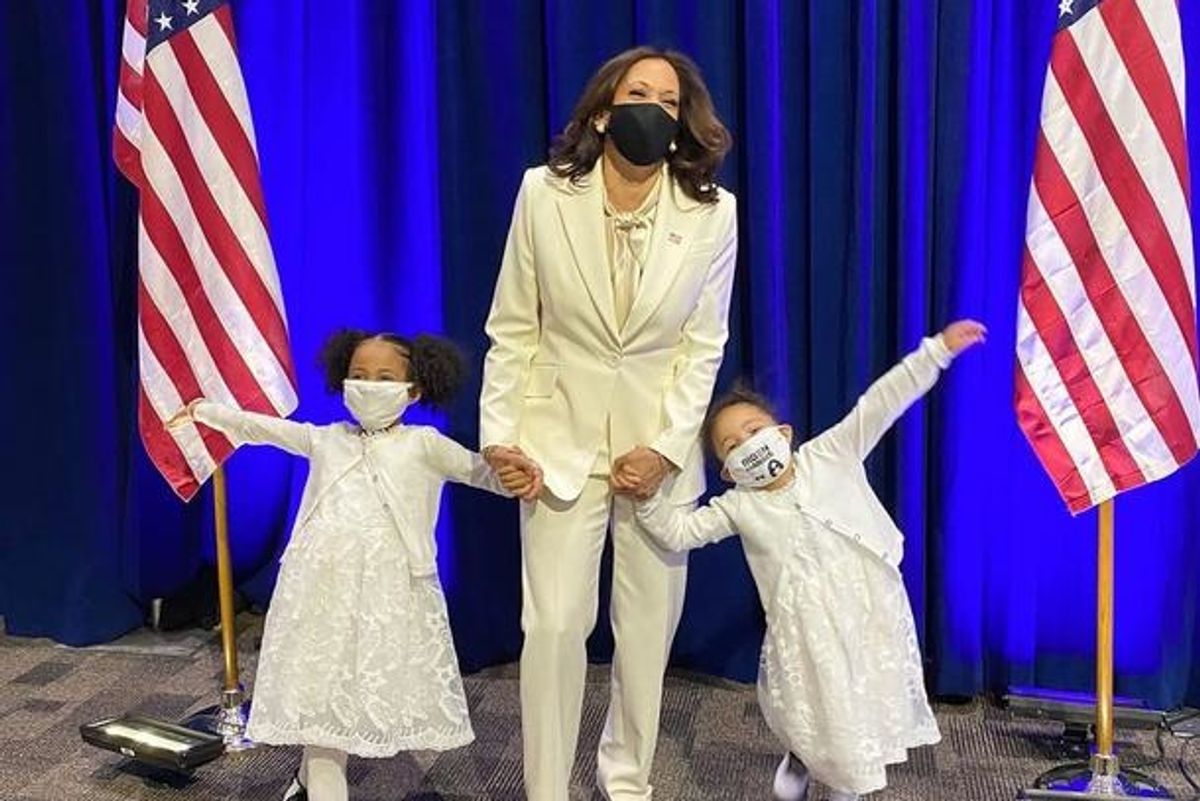 Photo credit: Kamala Harris Twitter feed
Saturday afternoon was a momentous day for America.
Not only did we elect Joe Biden as our 46th President of the United States , but we also elected our first female, Black and South Asian Vice President: Kamala Harris. When Harris took the stage on Saturday evening, in Wilmington, DE, not only did she deliver an empowering speech that offered volumes of inspiration to generations of American women, she also delivered a powerful statement in the ensemble she chose to wear.
---
Dressed in a gorgeous white pantsuit from Carolina Herrera, a satin pussybow blouse, and Manolo Blahnik nude pointy toe pumps, Harris sauntered on stage with a clear message for America, but primarily American women. Now, I absolutely detest when individuals zero in on a woman's appearance, critiquing and picking apart her fashion choices while losing focus of the overall individual. We almost never comment on men's attire.
Why are we so fascinated with women's?
But the significance of Harris' ensemble is an important one and attention must be paid. It is universally known that white is considered a symbol of the suffragette movement, when women tirelessly fought for the right to vote. This year marks the 100th anniversary of suffragette movement and Harris made certain to acknowledge it by donning all white, along with her great nieces.
"To all the women, who have worked to secure and protect the right to vote for over a century. One hundred years ago with the 19th Amendment , 55 years ago with the Voting Rights Act , and now in 2020 with the new generation of women." Harris said in regards to the women who fought for voting rights during the 20th century and the women of today, who cast their ballot and "continued to fight for their fundamental right to vote and be heard."
I've watched that speech several times already, and it still manages to bring tears to my eyes. Simply writing those words makes me teary-eyed.
However, this isn't the first time female politicians have worn the color as a statement. In fact, female politicians have been wearing white for decades, honoring the women who notoriously paved the way for them generations prior.
In 1968, Shirley Chisholm wore white when she became the first African American woman elected to Congress. In 1984, Geraldine Ferraro also wore all-white to accept her role as Walter Mondale's running mate in his presidential race. In 2016, Hillary Clinton wore a white pantsuit to accept the Democratic presidential nomination. And who could forget the numerous Congresswomen who wore white at the 2019 State of the Union address, paying tribute to the suffragettes, while silently sending a clear message to the Trump administration and its inhumane policies.
So it's no surprise Harris chose to wear white considering her extensive resume fighting for female equality and inclusion. But nevertheless, its significance speaks volumes. We are entering into a new generation for women, filled with endless possibilities and immense hope.
When little girls look at their country today, they will see representation staring back at them. Gone are the days when politics was specifically catered to men. Because of Harris, and the many generations of women before her, there is now a comfortable seat at the table.
"While I may be the first woman in this office, I will not be the last," said Harris.
Damn right!