Breaking down her stance on abortion.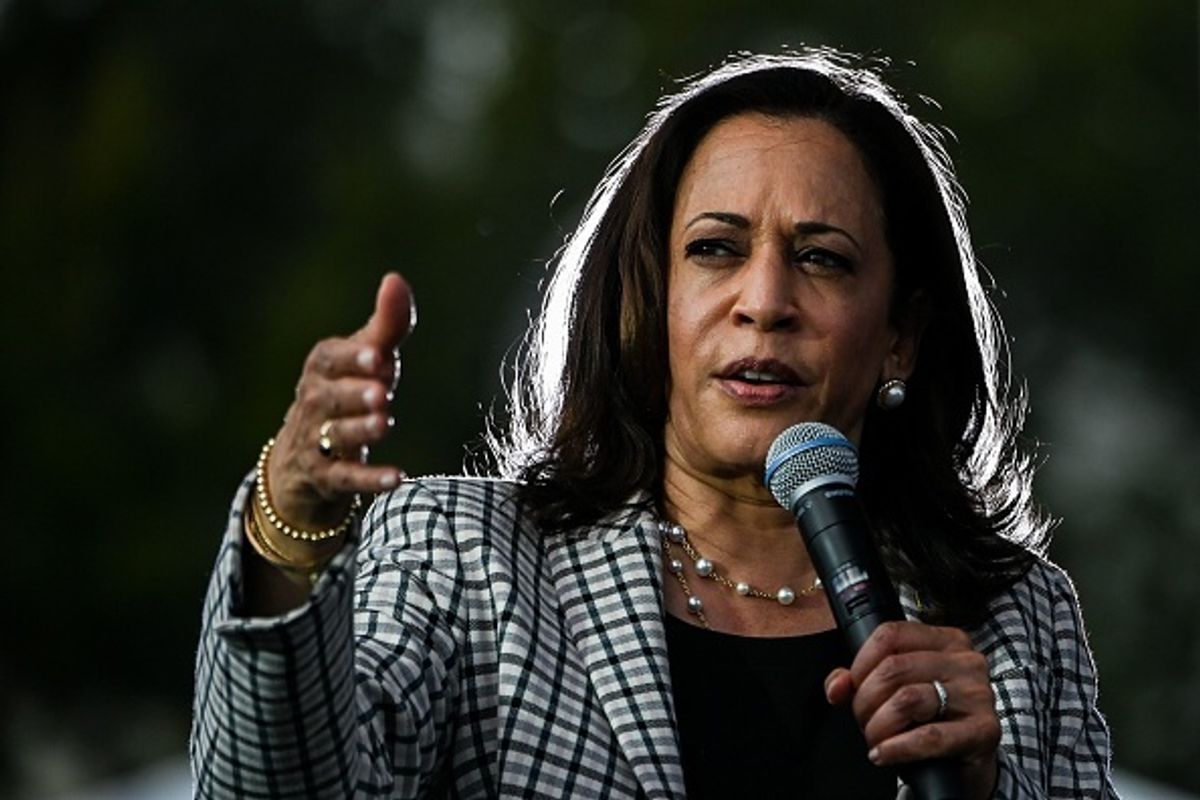 Photo by CHANDAN KHANNA/AFP via Getty Images
In the backdrop of President-elect Joe Biden's hopeful win in the 2020 presidential election, attention is on both him and Vice President-elect Kamala Harris.
As former District Attorney of San Francisco, as well as the first woman and person of color to serve as California's Attorney General, it's safe to say Harris has a clear understanding for making difficult decisions. What's more, Harris is only the second African-American woman and first South Asian-American senator.
---
She spent the majority of her career fighting notoriously for injustice and served on the Select Committee on Intelligence, the Committee on the Judiciary, and the Committee on the Budget.
Still, Harris will always remain under watchful, questioning eyes regarding certain policies. Primarily those pertaining to abortion.

Below, we delved into Harris' stance on reproductive rights and abortion access since Donald Trump's appointing of Amy Coney Barrett to the Supreme Court.
She proposed her own abortion rights plan
In May 2019, Harris proposed an abortion rights plan modeled after the Voting Rights Act, according to Politico. In the plan, Harris noted that certain states restricting and limiting the number of abortions in Alabama, Georgia, and Missouri would have to get permission from the Department of Justice before enforcing laws affecting the procedure.
The proposed plan would require states to demonstrate repeated instances of abridging abortion-rights to get preclearance. The plan stated the preclearance would only be granted to laws not violating either Roe vs. Wade or the Women's Health Protection Act.
Harris' new proposal is similar to the Voting Rights Act of 1965 in the sense it makes states receive a preclearance from the Justice Department before the laws could go into effect.
Even though the Supreme Court struck down Harris' initial proposition in the Voting Rights Act of 2013, she remained optimistic, and her plan was upheld based on state abortion rights over the past 25 years.
She co-sponsored abortion bills
Harris helped co-sponsor the Women's Health Protection Act of 2019. The act strives to "protect a woman's ability to determine whether and when to bear a child by "prohibiting local or state governments from imposing certain restrictions on access to abortion services".
Another bill Harris co-sponsored is the Equal Access to Abortion Coverage in Health Insurance (EACH Woman) Act set to "ensure affordable abortion coverage and care for every woman and other purposes."
As President, I will stop dangerous state laws restricting reproductive rights before they go into effect. https://t.co/w0cDxdH51T

— Kamala Harris (@Kamala Harris) 1559096180.0
She tackled Supreme Court Justice Brett Kavanaugh with abortion questions

"Can you think of any laws that give the government the power to make decisions about the male body?" Harris asked Brett Kavanaugh during the Supreme Court hearing in 2018. Due to some confusion, Harris modified but asked a similar question in which Kavanaugh answered, "I'm not thinking of any right now, Senator."
Harris was among the few senators who questioned Kavanaugh about abortion access. She did something similar during Amy Coney Barrett's confirmation hearings, stating:
"Let's not make any mistake about it. Allowing President Trump to determine who fills the seat of Ruth Bader Ginsburg, a champion for women's rights and a critical vote in so many decisions that have sustained the right to choose, poses a threat to safe and legal abortion in our country," Harris said.
.@SenKamalaHarris correctly explains the Ginsburg standard to Judge Kavanaugh—answering fair questions about women'… https://t.co/QSnqMj8Uxp

— Senate Democrats (@Senate Democrats) 1536200143.0
She challenged Joe Biden's stance on the Hyde Amendment
In July 2019, Harris grilled the former Vice President on the stage during the primaries about his support for the amendment.
Biden supported T he Hyde Amendment, which prevents public funding of abortion under Medicaid, until last summer when he received a nudge to change his stance from other Democratic candidates.
"On the Hyde Amendment, vice president, where you made a decision for years to withhold resources to poor women to have access to reproductive health care, including women who were the victims of rape and incest, do you now say that you have evolved and you regret that?" Harris asked.
She wants to codify Roe v.Wade
Even though the 1973 ruling a Roe v. Wade made it illegal for any state to ban abortions, it is still subject to ridicule and attack from State legislation regulating the procedures. According to The Cut, if the ruling is codified, women having the right to an abortion would become a federal law protected by the Supreme Court, which is highly important and commendable in a society that expresses "freedom".
She has Planned Parenthood's support
While endorsing Biden for president, Planned Parenthood has also dedicated a section on its website supporting Harris' contributions to the matter stating:
Throughout her career, Kamala Harris has been a defender of reproductive rights and health care. She has stood up for the principle that when it comes to our health, our bodies, and our futures, WE decide, not politicians. And she has stood up for communities — especially people of color and those with low-incomes — hit hard by the Trump-Pence agenda of less access to abortion, birth control, and health care.
Biden's selection of Harris makes it clear that in the White House, their administration would not only protect reproductive rights — but also advance and expand them.
It's also worth noting that Harris got the 100 percent "choice rating" by NARAL: Pro-Choice America.