'Hamilton' is MORE than Jonathan Groff's spit
Stop obsessing over the only principal character that is not a person of color - you're steamrolling the point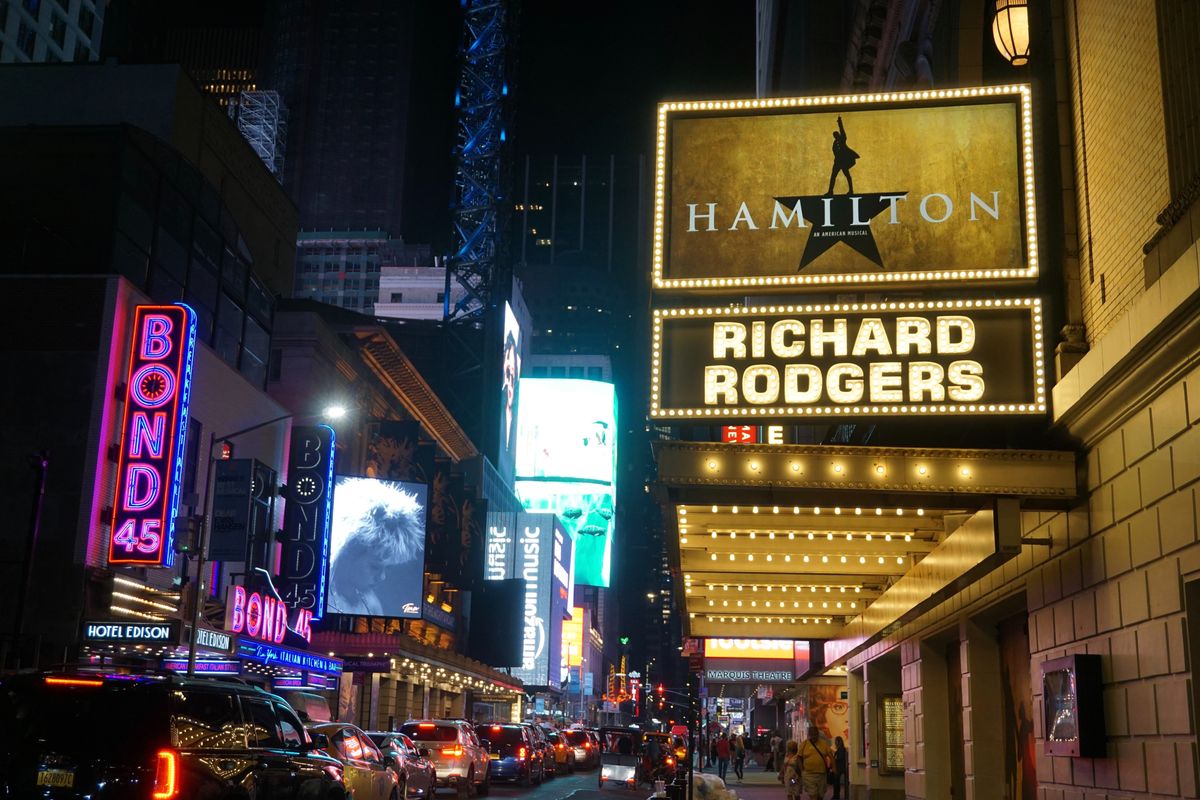 Tuba Player- Music Educator- Musical Lover- Black Lives Matter
https://www.facebook.com/heather.ewer
@tubaheather
Hamilton, the 2016 Tony Award winning musical everyone has been clamoring over recently reignited its passionate fans, and gained new ones. Our clamoring continued when the Disney+ released the musical on the eve of the most cringe worthy 4th of July ever.
Here is a brilliant piece of theater portraying America's founding fathers, but they do not look like the founding fathers in our subpar history books. Daveed Diggs, a phenomenal Black actor, portrays Thomas Jefferson, the man who wrote that "all men are created equal" while owning enslaved people, some of whom were his relatives. The hypocrisy of the founding fathers is dumbfounding. Check it out. Aaron Burr is Hamilton's white rival who killed him, played by Tony Award winning Black actor Leslie Odom Jr. The brilliant Lin Manuel-Miranda (who wrote "In the Heights" first - listen to it!) is of Puerto Rican descent, playing the titular character of Hamilton, a Puerto Rican immigrant - that tracks. I could go through the entire cast and compare their ethnicity to that of their characters, but I'll stop. But know that the very intentional casting choices should be noted and not ignored. So why are we not using Hamilton as a launch pad for critical discussions about racial justice? Oh, that's right. We're too busy obsessing over Jonathan Groff's spit.
---
Do not misconstrue my point and make this a critique on Groff. It's not. His rendition of "You'll Be Back" on the streaming platform far outshines his performance on the recording. This is instead a critique of the media consumers who act like a mosquito that won't leave your ankle alone. Move on to ANY other part of the body, mosquito!
By focusing on his spitting (which just happens to actors! Watch Matt LeBlanc and Gary Oldman in "TOW Monica and Chandler's Wedding"), there are critical points about the musical that are being missed. Renee Elise Goldsberry's (Angelica's) impeccable placement in her riffs, Phillipa Soo's (Eliza's) heart-wrenching acting choices in "Burn", and Diggs' insanely fast rapped solos in "Guns and Ships" when he's playing everyone's favorite fighting Frenchmen. Let's make those accolades trending. These performers are unbelievably talented and have spent their 10,000 hours and then some to be on Broadway in the most popular musical of our generation. They don't deserve to be overshadowed by spit.
If you want to focus on tiny details, at least focus on details that mean something. Hamilton married into the wealthy Schuyler family-a family with a history of owning enslaved people, and who continued to do so during Hamilton's lifetime. We cannot only serve up Alexander Hamilton as a hero. Our founding fathers should not be viewed as good or bad. They should be viewed as people. Super hypocritical people, but people nonetheless. And people make mistakes and poor choices. The terrible institution of slavery that still besmirches our nation's made up honor is really only spoken about in the show by John Laurens, Hamilton's friend who's dream was to create a Black battalion to fight for the revolution. Hamilton supports this plan, until Laurens tragically dies at the end of the war. The letter from his father says that his dream of equality for Black people died with him. So even if the musical didn't go more into slavery, why are we not talking about THAT? The omission of slavery? What does that mean for the musical? Talk about something of importance, ANYTHING of importance.
By making Groff's spit a focal point, we are once again falling into the dangerous pattern that continues to persist in our country- the pattern of the well-meaning white liberal. In his "Letter from the Birmingham Jail" written on April 16th, 1963, Dr. Martin Luther King Jr. warns of the harm done by well-meaning white liberals. They act supportive, they act like they are listening, yet when it comes time to take action and fight for equity and equality, they remain silent. When we speak of spit, we are silent to all of the other salient points that Hamilton expresses.
I'll leave you with this parting thought. The next time you find yourself on Disney + hankering for a reprise, remember: spit does not matter. Black lives matter. They always have, and they always will.

Note: Looking for behind the scenes content? Watch this SirusXM Radio interview with Mr. Miranda and most of the principal cast (not Groff, we love ya Buddy, but King George is the silly villain, not the focal point). It's such a fun interview that's worth your time!