Gen Z wants to cancel Eminem on TikTok — and Millennials aren't here for it
Some members of Gen Z want to leave Eminem in the past.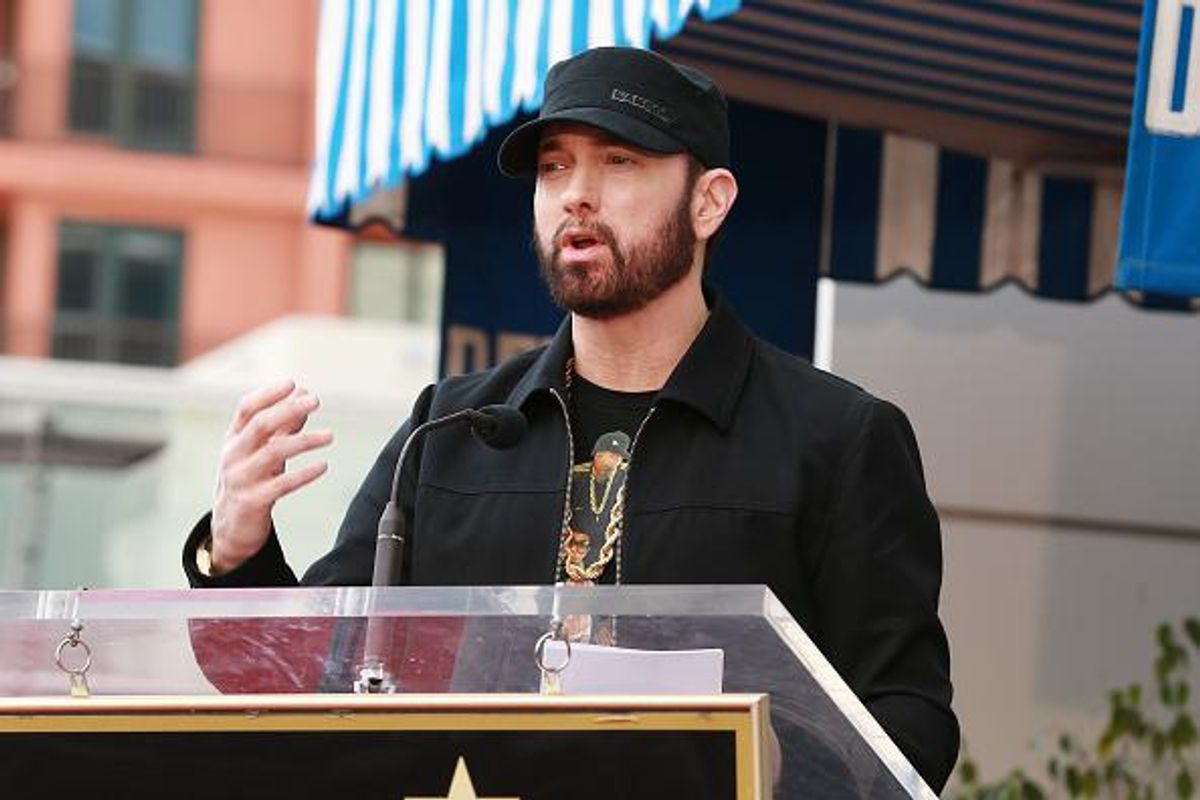 Photo by Leon Bennett/Getty Images.
Updated on March 7 at 10:47 am EST.
Since late last night, the Detroit emcee Eminem has been trending on social media. If you are anything like me, you probably thought he had dropped an unexpected album.
But, alas, the reason the rapper's name is spread across the internet is actually due to a debate between some Gen Z and Millennials , with the generations arguing over whether or not to cancel the rapper.
---
Several Gen Z TikTokers are shedding light on his more problematic lyrics. As a result, they want to leave him in the past. In particular, his end verse in the 2010 song "Love The Way You Lie" featuring Rihanna .
Many people were angered by these lines within the track: "If she ever tries to f***ing leave again/I'mma tie her to the bed and set this house on fire."
Since the track was released over a decade ago, many didn't anticipate this to blow up the way it has. It appears that some Gen Z'ers have made up their minds to cancel Eminem due to "toxicity" in some of his lyrics.
As expected, many rushed to defend the songs.
Here are some things that are being said about Slim Shady on Twitter:
Even The View's Megan McCain weighed in on the situation:

Eminem will not be cancelled. Come at me Z's. https://t.co/8kuCqlhy1n

— Meghan McCain (@Meghan McCain) 1614734941.0
Some Millennials also alluded to the idea that they grew up listening to him, even suggesting that the rapper cannot succumb to "cancel culture". Moreover, other people believe the Gen Z generation aren't the first to try and cancel Eminem since he started garnering attention in the '90s.
" They have been trying to cancel him since 1999. Every attempt made him more famous," said a Twitter user. I suppose that's true given his extensive career in the music industry despite the backlash.
Now, Eminem has seemingly made a response to the cancellation debate by releasing an animated lyric video for his Music To Be Murdered By track "Tone Deaf." The lyrics themselves pinpoint the topic of the cancellation, which is hard not to take notice. The caption for the video was the following: "I won't stop even when my hair turns grey, 'cause they won't stop until they cancel me," he raps over the beat, all but daring his opponents to "continue their efforts."
Eminem - Tone Deaf (Lyric Video) youtu.be
What are your thoughts about the debate between Gen Z and Millennials wanting to cancel Eminem?
Have you got something to say about this subject? Submit a post here and start the conversation.