How Eloise Bridgerton perfectly incapsulates the shows flaws and best attributes
Outspoken, spirited and independent, Eloise Bridgerton (played by Claudia Jessie) is a far more compelling character than all her siblings combined.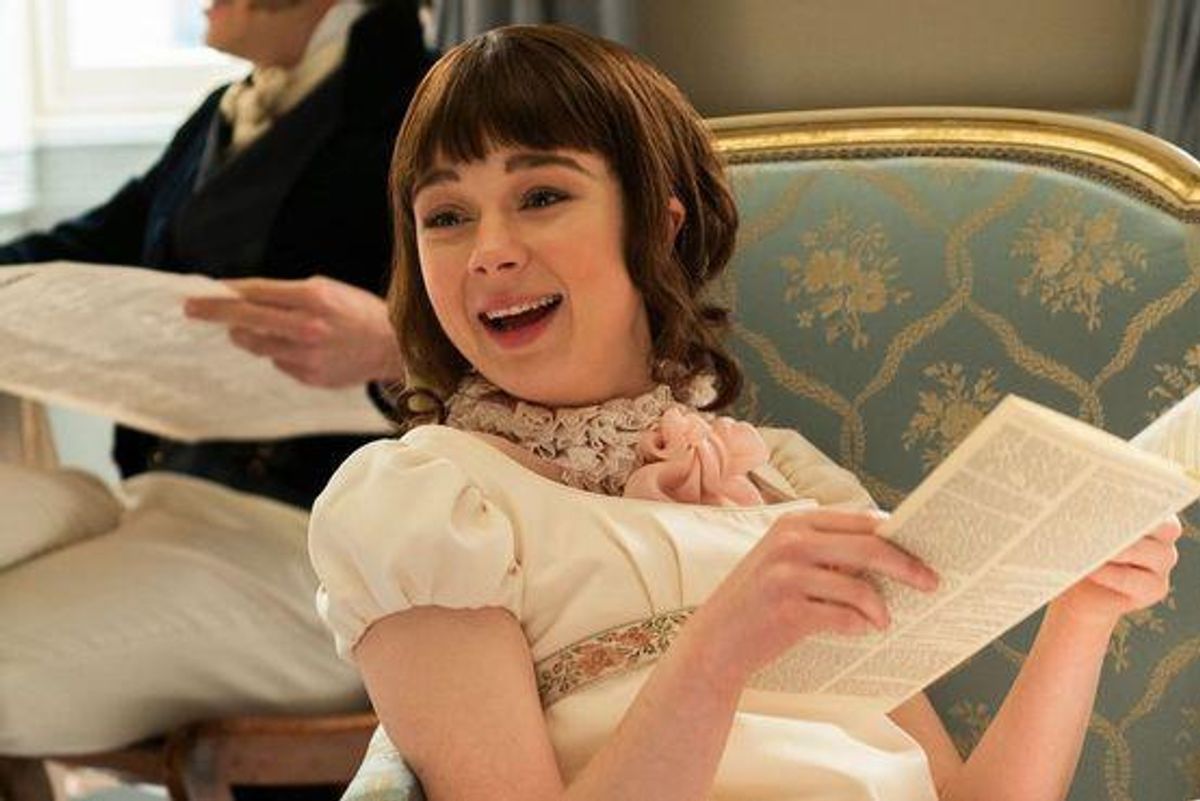 Curtsey of Netflix
Editor's Note: This article contains spoilers.
There's something to be said about a heroine who chooses to separate from societal norms and make her own way in life. In my opinion, it makes for a more interesting story. This is not the case with the protagonist at the epicenter of Netflix's latest drama, 'Bridgerton'. One would argue Daphne Bridgerton, the eldest of the Bridgerton clan, is as far from a heroine as one can get.
---
Throughout the series, Daphne spends the majority of her time either worrying about marriage or having children. Apart from playing the piano, Daphne offers minimal interest in anything unrelating to matrimonial affairs. In fact, Daphne is so obsessed with conforming to traditional norms, when her husband, The Duke of Hastings (Regé-Jean Page) refuses to give her children, she forces him to ejaculate inside her in a scene that can only be described as rape.
Not only does the scene showcase Daphne's manipulative demeanor, but it also sheds light on a different narrative of non-consensual sex. One can only imagine how Jane Austen would react to such a heroine. We can thank Hollywood's romanticization regarding toxic and abusive relationships.
But all is not lost for the Bridgerton crew. Where Daphne lacks depth, her sister Eloise surely makes up for in spades.
Outspoken, spirited and independent, Eloise Bridgerton (played by Claudia Jessie) is a far more compelling character than her eldest sister. Eager to make her own way in the world, Eloise spends more time mocking London society than finding a suitable husband to take care of her. She smokes cigarettes in secret, engages in suggestive banter with her brothers and dreams of attending university instead of playing house.
What makes Eloise so captivating is her defiance of social norms. Although the majority of women in the series are solely focused on procuring a husband, Eloise rejects the concept in every way. This kind of mentality is empowering for modern audiences, especially during a post #TimesUp era.
In fact, if it weren't for Eloise's storyline, I might've lost interest after the first episode. Ok, I'm not going to lie: the steamy sex scenes weren't bad either. Although the show is interesting enough, the storyline is predictable in regards to its main character. We have a heroine searching for love, only to end up with a broodingly handsome Duke, securing both a husband and a title.
Shocker.
What irritated me about the overall series is how the strongest, most compelling female characters are perceived as sidekicks or worse: dishonorable. Case and point: Sienna Rosso (played by Sabrina Bartlett). Sienna is an accomplished opera singer who lives her life according to her own rules. Despite being in love with Anthony Bridgeton (Jonathan Bailey), Siena refuses him to continue stringing her along. In the finale, Siena finally ends things with Anthony, inevitably prioritizing her self-respect over her feelings for him.
An empowering character like Siena should be celebrated. Instead, she is depicted as a prostitute and deemed improper. The same can be said for Madam Delacroix, the dressmaker who owns her own dress shop. These were the stories I was most interested in. Stories consisting of powerful, yet complex women who refuse to fit into the role society created for them.
Yet, it was Daphne's boring portrayal of securing a husband that managed to become the focal point of the show. Why are we still telling these patriarchal stories? Don't get me wrong, motherhood and marriage are beautiful blessings. However, they shouldn't be synonymous with a woman's overall worth.
Women are multifaceted creatures who have the ability to achieve anything in life. Hopefully the writers create more opportunity for Eloise during the next season; giving viewers a heroine women not only root for, but relate to.