Britney Spears fans demand apology from Diane Sawyer over 'sexist' Primetime interview
In the interview, Sawyer is seen berating Spears about her public breakup from Justin Timberlake, belittling the popstar to tears.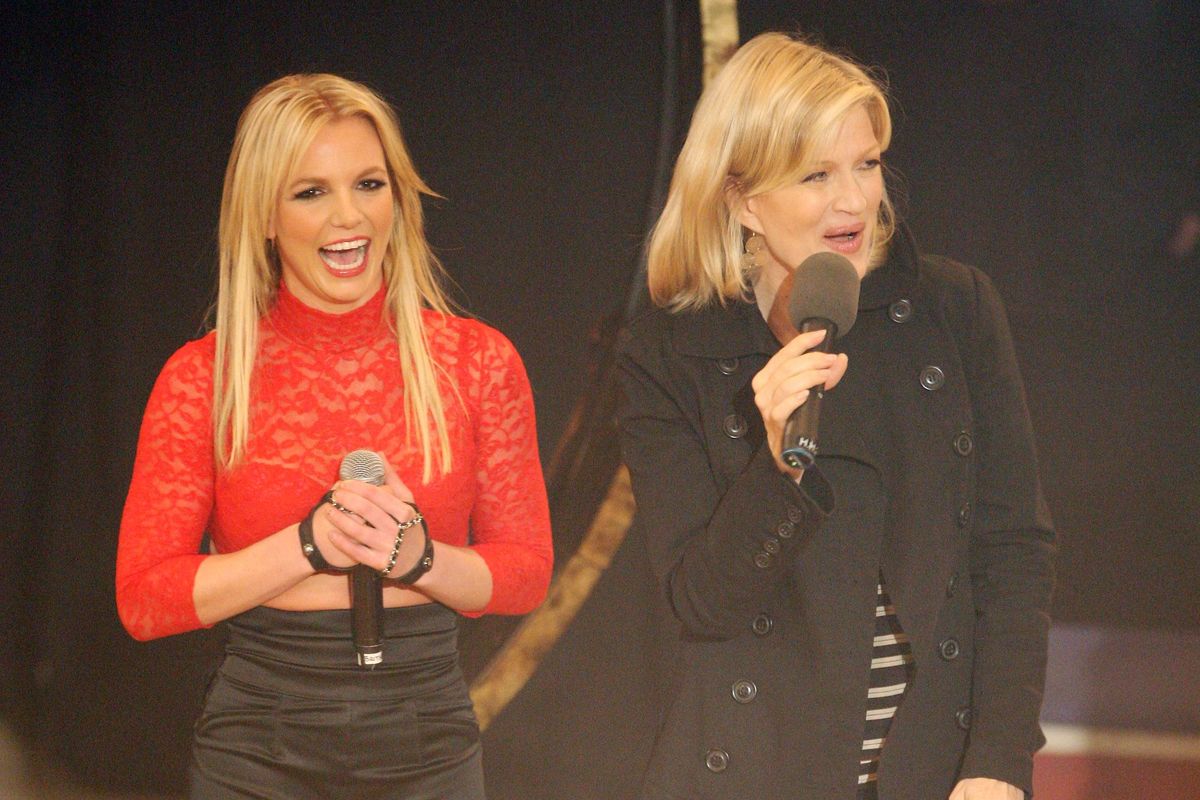 (Photo by Bryan Bedder/Getty Images)
If you tuned into the new Britney Spears documentary, "Framing Britney Spears," over the weekend, odds are you were left speechless. The documentary, which premiered Feb. 5 on Hulu, is part of The New York TimesPresents series, outlining the media's misogynistic treatment of Spears over the years, in addition to her conservatorship battle with her father, Jamie Spears.
---
In the documentary, footage from Spears' 2003 Primetime interview with Diane Sawyer is on full display, as an example of the sexist treatment Spears experienced in the media throughout her career. In the interview, Sawyer is seen berating Spears about her public breakup from Justin Timberlake, belittling the popstar to tears.
On Friday, Timberlake ended up apologizing to both Britney and Janet Jackson following the backlash he received from the documentary about his past behavior, saying, "I can do better and I will do better."
"You broke his heart. You did something that caused him so much pain, so much suffering. What did you do?" Sawyer asked a then 22-year-old Spears, who asked for a break earlier in the interview. Being slut-shamed by insecure men is nothing new for women. But when a seasoned, female journalist - who was considered a pioneer to women - undermines a 21-year-old popstar on national television, it breathes new life into misogyny.
In addition, Sawyer hammered Spears about her sexual image, quoting a comment former First Lady of Maryland, Kendel Ehrlich made about Spears during an anti-domestic violence rally the same year.
"Really, if I had an opportunity to shoot Britney Spears, I think I would," Ehrlich said.

These are words from a politician's wife, attending a rally for anti-domestic violence. I don't need to outline the numerous ways her comments border on impropriety.
The Talk - Britney Spears Docu: Amanda Kloots Says Diane Sawyer Owes 'her an apology'www.youtube.com
Rather than condemn Elrich's disturbing comments on threatening to shoot a 21-year-old woman, Sawyer chose to defend them.

"It's because of the example for kids and how hard it is to be a parent," Sawyer sympathized with Ehrlich.
It didn't take long for fans to rally around Spears after the documentary aired, expressing outrage on social media. Many accused Sawyer of "slut-shaming," and bullying Spears, calling the overall interview "emotionally abusive."
"Diane Sawyer made it sound reasonable that the First Lady of Maryland wanted to shoot Britney Spears because being a parent is hard," one fan tweeted.
"I watched this last night. It was really eye-opening. Not just about Britney herself, but the vultures of the tabloid media, the blatant misogyny surrounding her rise (and "fall"), and the absence of any sort of serious questions about mental health." tweeted another.
For those who watched the Primetime interview, understand it's worse than what the documentary showcases. In a moment - not shown in the documentary - Sawyer asks Spears to disclose intimate details about her sex life after reading a quote Spears made regarding her virginity.

"But you said, 'I've only slept with one person in my whole life, two years into my relationship with Justin.' And yet he's left the impression that you weren't faithful, that you betrayed the relationship," said Sawyer.
It doesn't stop there. Later on, Sawyer refers to Spears's midriff as the "most valuable square inch of real estate in the entertainment universe." If that's not a perfect example of objectification, I don't know what is.
In addition, Sawyer ridiculed Spears for her choice of clothing on numerous magazine covers.
"What happened to your clothes?" Sawyer asks Spears, holding up numerous magazine covers where Spears is nearly naked. "What is it about?" Spears' response to Sawyers outrageously sexist questions is classic: "What is it about? It's about doing a beautiful picture. I feel comfortable in my skin," she says. "I think it's an okay thing to express yourself"
Spoken like a confident badass.
During a Monday taping of "The Talk," host Amanda Kloots voiced her disbelief over the 2003 interview.

"I watched this the other night, and I was shocked. I don't think the interviews that you see on this documentary would even be allowed today...I think Diane Sawyer does owe her an apology; I think the whole world owes her an apology, the paparazzi owe her an apology...it's heartbreaking to see what this poor girl went through." Kloots said.
Fans are demanding Sawyer apologize to Spears, and acknowledge that her behavior during the interview was wrong. Sawyer has yet to release any statement or apology regarding the matter.
Have you got something to say about this subject? Submit a post here and start the conversation.