Britney Spears documentary sheds light on #FreeBritney movement, examines misogyny in the media
In a new documentary, Framing Britney Spears, filmmakers shed light on Britney's conservatorship battle, as well as insight into the #FreeBritney movement.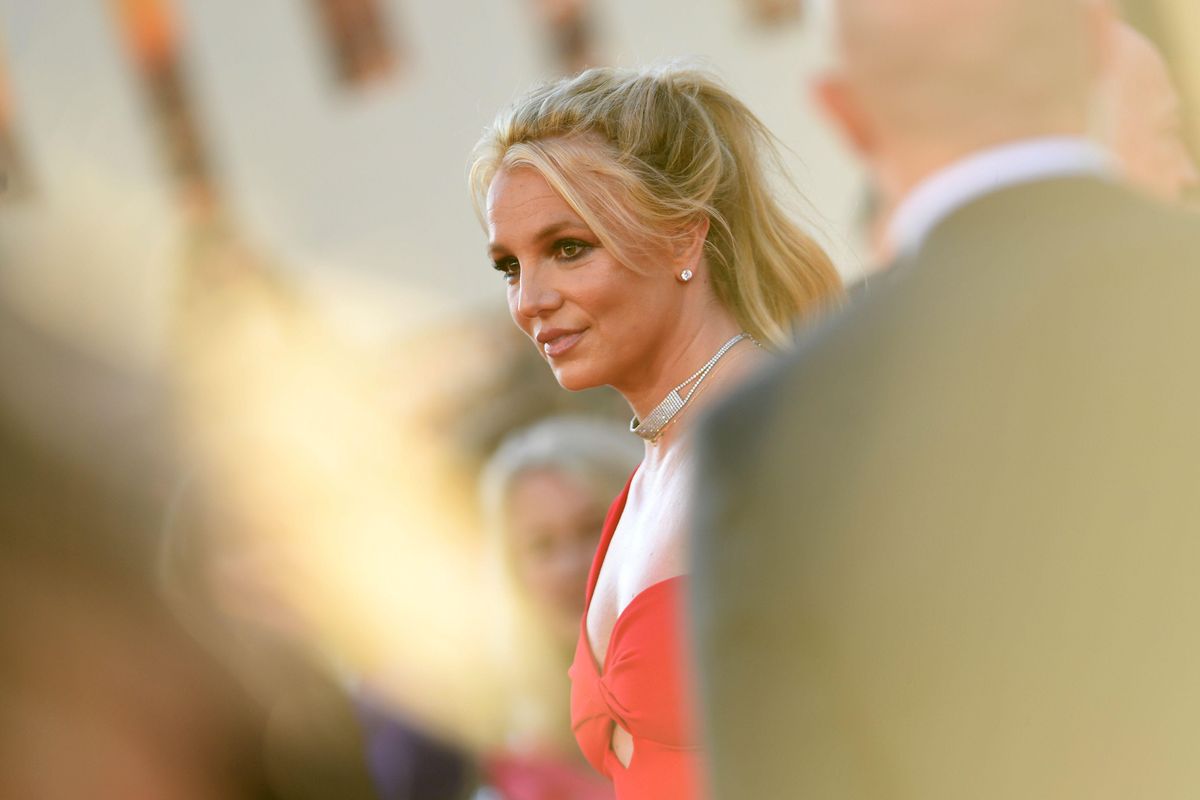 Photo credit: VALERIE MACON/AFP via Getty Images)
I've been a fan of Britney Spears for as long as I can remember. Her first album, "...Baby One More Time" was the first album I ever purchased, and her "Oops!...I Did It Again" Tour was the first concert I attended. Growing up, I religiously listened to Britney's music, gyrating around my bedroom for hours, imagining I was a successful pop star like her. I even learned all the steps to her "Oops!... I Did It Again" music video, performing it at my fourth-grade talent show.
---
Naturally, I didn't win. I blame my backup dancers for not memorizing all the moves.
But as a wide-eyed, impressionable 10-year-old, Britney was the coolest person on the planet to me. She was unapologetically confident and sexy, with a down-to-earth relatability that made you feel as if you personally knew her. But despite Spears' immense success and fame, there was also a sadness to her that I couldn't understand.
In a new documentary, Framing Britney Spears,filmmakers shed light on Britney's conservatorship battle, as well as insight into the #FreeBritney movement. Spears has been under a conservatorship controlled by her father, Jamie Spears, since 2008, granting him legal right to make decisions regarding her personal finances. The documentary, which premiered Friday on Hulu, as part of The New York TimesPresents series, also outlines the media's misogynistic treatment of Spears over the years.
In footage from early interviews, Spears is routinely asked about her virginity and body - questions male singers are never accustomed to. In footage taken from a 1992 performance, a 10-year-old Spears is asked whether she had a boyfriend. Rather than inquire about Spears' performance, the host continues inquiring about her dating life (again, she was 10-years-old), while simultaneously commenting on how beautiful her eyes are.
The host's questions were entirely inappropriate, but they also laid the foundation to how Spears would later be perceived by the media. After her breakup with Justin Timberlake in 2002, Spears was immediately viewed as a villain, slut-shamed over cheating rumors.
Unauthorized Britney Spears documentary goes inside conservatorship battlewww.youtube.com
Not only did Justin revel in his victimization, he profited off it. Almost immediately after their breakup, Justin released the music video to "Cry Me A River," in which a Britney lookalike is filmed sneaking around behind his back. To make matters worse, Justin went on The Howard Stern Show and boasted about taking Spears' virginity.

Give me one second while I vomit in the face of toxic masculinity.
In addition, Diane Sawyer furthered speculation when she interviewed Spears in 2003 and belittled her to tears.
"You broke his heart, you did something that caused him so much pain, so much suffering. What did you do?" Sawyer asked Spears.
Wow, because whenever a heterosexual couple breaks up, it must be because of something the female partner did, right? Being slut-shamed by insecure men is nothing new for women. But when a seasoned, female journalist - who was considered a pioneer to women - hammers away at a 22-year-old singer's confidence on national television, it breathes new life into misogyny.
I remember watching that interview as an 11-year-old and feeling extremely sad for Spears. Re-watching it as a 29-year-old validates my heartbreak for her, but for different reasons. It's no secret women continuously face obstacles within life. The entire system often feels like one, patriarchal maze. That sentiment rings louder for women working within male-dominated industries.
This is why women supporting and mentoring young women is crucial. Re-watching the Diane Sawyer interview with Spears made me cringe. Had any of these interviews taken place today, there would be immense backlash in regards to how Spears was treated and spoken to. Instead of supporting Spears, who was clearly suffering a lot of emotional pain at the time, Sawyer chose to benefit off that pain, additionally undermining Spears' fidelity in the process. If that's not an evident example of feeding into patriarchy, I don't know what is.
Some might argue it's challenging for women to truly support one another in work environments that are more masculine. That mentality is muddled. Empowering women within a predominately male industry is even more important. As a child, Spears always seemed larger than life to me. But what I failed to realized was she was just a child, growing up in an extremely toxic culture, where it was considered acceptable to belittle and undermine women.
After the documentary aired, viewers and celebrities instantly rallied around the #FreeBritney movement. Bette Midler, Rico Nasty, Hayley Williams from Paramore, and Sarah Jessica Parker, all tweeted support for the #FreeBritney movement over the weekend.
"No artist today would have to endure the literal torture that media/society/utter misogynists inflicted upon her. The mental health awareness conversation, culturally, could never be where it is without the awful price she has paid," Williams tweeted.

Miley Cyrus, who performed during the Super Bowl pregame, gave Britney a shout out while performing her hit "Party in the USA."
"We love Britney," Cyrus shouted onstage.
In November, a Los Angeles court denied a request to remove Jamie Spears as the controller of his daughter's conservatorship. The next court hearing is set for February 11.

What's more, the media's criticism of Spears' sexuality was also on display in the documentary. Throughout her career, Spears was continuously condemned for expressing her sexuality on and off stage. Critics and "concerned parent" groups categorized Spears as a bad role model primarily because of her ability to blend innocence with eroticism.
Can't a woman be both innocent and sexy? Why does it have to be one or the other? Women have earned the right to be as multi-dimensional as we choose, without having to apologize for it. The thing everyone fails to realize is that Spears obtained fame at a pivotal moment during her life. She was a teenage girl coming to terms with her sexuality.
The only difference was she had to do it in front of an audience.
The documentary also highlights mental health issues, during a time when mental health was still considered a stigmatized subject. Odd to think there was a time when a person's mental wellbeing was considered taboo. Spears was consistently mocked by the media for shaving her head, damaging a paparazzo's car with an umbrella, and multiple hospitalizations.
She was the butt of many late-night hosts jokes, and often painted as an unfit mother by the tabloids. Thanks to the #MeToo and #TimesUp movements, we've seen immense progress in regards to sexism and misogyny within the media. However, the conversation revolving around mental health is still extremely stigmatized. In order for that to change, we need to continue normalizing conversations surrounding mental health.
As someone who's struggled with anxiety and depression, I understand how important conversations surrounding mental wellbeing are. By standardizing these conversations, society can begin building momentum around a movement that allows individuals the freedom to feel comfortable within their own skin rather than ashamed in it.
Have you got something to say about this subject? Submit a post here and start the conversation.