Stories of shock and survival: Three months after the Beirut explosion, residents are still mourning
Reflections on my time responding to the Beirut explosion.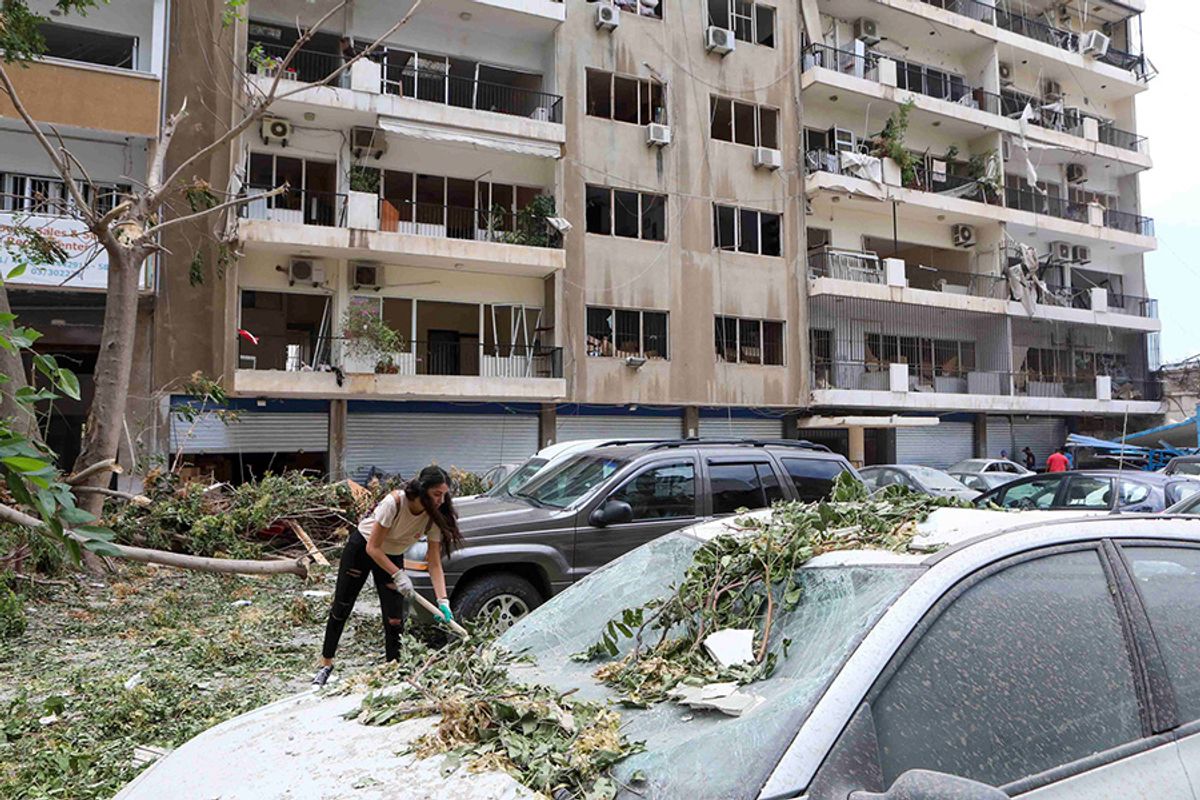 Photo credit: CARE International
@salibaramzi
Ramzi Saliba is a Program Manager in the Humanitarian Assistance and Resilience Team at CARE Canada managing the Middle East, Latin America and the Caribbean, Nepal and Somalia. He was born in Beirut Lebanon, and is currently based in Ottawa, Canada.
Seeing Beirut after the Aug. 4 explosion was unimaginable.
Throughout my career in the humanitarian sector, I've never responded to a crisis riddled with so much complexity. In responding to this crisis, I was also returning home.
---
The explosion's immediate toll only exacerbated long-standing and simultaneous emergencies in Lebanon—economic crashes, civil unrest, and the Covid-19 pandemic.
On a personal level, the blast was emotionally taxing. My own friends and family were in the path of the explosion, and some are recovering from injuries to this day. My childhood school of 12 years was reduced to a skeleton of a building.
The damage done through several years of civil war unfolded in a mere matter of seconds. A shock wave ripped through the whole city, taking the lives of hundreds, injuring over 6,000, and driving over 300,000 into homelessness instantly.
While three months have passed since the explosion, the crisis and fallout are still evolving.
Traveling to Beirut to respond
I left Canada 10 days after the explosion on Aug.14 and stayed in Beirut for nine weeks until October 18. After spending two days in quarantine upon arrival, I walked through the streets and communities in the city I knew well. As I approached the port, through the most heavily damaged neighborhoods of Gemmayze, Mar Mikhael, and Karantina, every passing street was more ravaged than the last.
A vital metropolitan city, full of culture, art, and vibrant life that I once called home diminished to ruins. It was unrecognizable.
I walked through the rubble for five hours that day, struck by not only the visual devastation, but the auditory cues of a city in crisis. The soundtrack was a symphony of broken glass crunching— glass being swept, glass being thrown from buildings, and glass being shoveled off-site.
The power of local partnerships
CARE was one of the first international organizations to respond. By the time I arrived, the CARE Lebanon team was already ramping up their response through local partners on the ground, providing food, shelter, and safety.
CARE Lebanon's office was not immune from the blast. The staff was traumatized, the office windows wiped out, and some colleagues even lost their homes. But they were all there, responding to the crisis, hand-in-hand with local partners, to serve the Lebanese people's needs.
That was a hallmark of my time on the ground: everyone personally affected by the blast also rolled up their sleeves, working tirelessly to help each other. The Beirut response represents the importance of working with local partners in humanitarian responses.
Given their intimacy and familiarity with the area, the trust they have from their neighbors, they bring an unmatched level of community acceptance, hyper-focused expertise, ownership, and efficiency to the work at hand. As my time progressed in Beirut, so did the evolution of the emergency response.
After about two weeks, food was no longer the most urgent need. We went on to focus on shelter, protection, and helping people earn an income. Hundreds of thousands of people had no roof over their heads, so repairs and securing safe spaces was an important need.
As a capital city of a middle-income country, Beirut needed to jump-start its local economy, restoring basic services. When I spoke with people, there was a plea for assistance in rebuilding the foundation of neighborhoods and economies, a goal to return to self-sufficiency.
They want the ability to choose what they need, not just short-term handouts like food and hygiene kits. Rebuilding will be far from simple, as it's not just a matter of replicating pre-existing responses. It also ensures our response is holistic. For instance, social protection remains a major issue; the sustained trauma in the wake of the blast is at a scale that I haven't encountered on any of my previous missions.
Everyone is dealing with post-traumatic stress on top of pre-existing concerns: a massive refugee crisis, economic and political turmoil, and a global pandemic.
"We don't want to have to be resilient."
Lebanon has been marked by crisis after crisis, and somehow the people have endured. But it does make me wonder what more can Lebanon endure?
Prior to the explosion, Lebanon was already facing compounding hardships. In the last 12 months alone, Lebanon has seen the country's biggest wildfires, followed two days later by the biggest revolution in its history, to a complete economic meltdown and hyperinflation.
Covid-19 lockdowns and an outbreak that is again on the rise, layered onto an existing refugee crisis dating back to 2012 (Lebanon having the most refugees per capita in the world) has created an unfathomable situation for the people of Lebanon.
With that, economic and livelihood projects must be prioritized, especially among the most vulnerable. In the last year, the percentage of people in extreme poverty in the country surged from 8 to 23%. Meanwhile, the middle class was shrunk by 30%.
I fear that without prioritizing self-sufficiency among the people of Beirut, this crisis will rob them of any remaining hope.
"Stop calling us resilient," they told me on numerous occasions, "we're tired, and we just want to live in peace. We don't want to be constantly in survival mode."
Amid the despair of the destruction during my stay, graffiti cast across the rubble captured their perseverance for survival:
"WE'RE STAYING."
"WE WILL REBUILD."
"OUR PLACE IS DESTROYED, BUT WE ARE NOT."
"BEIRUT WILL RISE AGAIN."
While they heal from the explosion's immediate needs and the crisis retreats from the focus in the news cycles, we cannot forget about Beirut.
They will rebuild because they have to. They will survive because that's what they know how to do.
Without the world's support, it will be lost.
Thankfully, CARE is making that support not only possible but tangible. But we cannot see that through without the generosity of donations to ensure that the Lebanese people can regain their lives, livelihoods, and hope.
By delivering thoughtful and targeted life-saving and recovery support, I'm hopeful the people of Beirut will rebuild their homes and recreate new memories that could return the city's charm and character.