How I used TikTok to get more job interviews
How one journalism graduate went from hundreds of job rejections, to numerous recruiters reaching out in the blink of an eye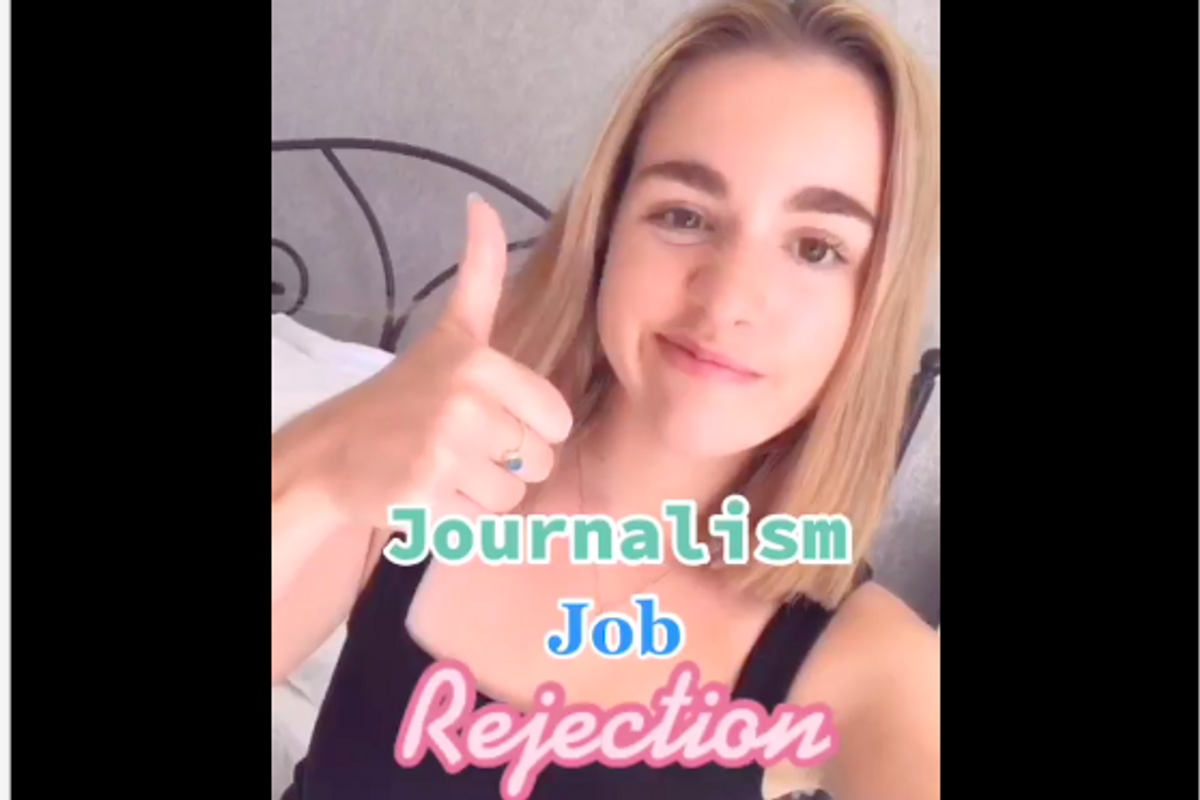 Photo by Grace Andrews
grace_andews
Journalism Graduate and Social Media Manager
grace-andrews1
the.socialclimber
If you graduated this year, you'd know about 'the look'. When you finally meet someone and they ask how you're doing, and you respond, "well, I graduated a couple of months ago…" they will tilt their head sympathetically and give you said 'look'.
They will feel compelled to share their opinion on how "hard it must be for young people embarking on their careers," and will feel "regretful for our generation" before carrying on with a sense of relief that it's us rather than them.
I decided to pursue a master's degree in journalism in September 2019 and was set to finish in May 2020. My goals were to gain accreditation, grow my network, and learn from experienced lecturers to break into the industry at the first opportunity. I absolutely loved the course from day one, and it was relieved to find something I actually enjoyed.
Until it all came to a grinding halt.
One Wednesday in March, I was reporting live on the first two Covid-19 cases from outside the hospital. The following day the university closed, we were all figuring out how to replicate some of this learning virtually from our bedrooms. Like the rest of the world, my life was put on pause.
There's no rewind, replay, or even fast forward. And for a long while, it felt like I was floating in a state of limbo, waiting for someone to press play so I could hit the ground running with all these exciting ideas and skills floating around in my mind.
I've had to understand what this 'new normal' will mean for a budding graduate with nowhere to go.
But this felt like walking off the edge of a cliff with a blindfold on, giving up hours upon hours pouring my heart into barely relevant job applications, knowing my chances were slimmer than slim. It took one job rejection to say they had received nearly 700 applications for me to realize I had to try something else.
So it clicked – if I want to be seen, I had to be a bit louder, which has never been a huge problem for me. And so I did: I sold my soul to LinkedIn, and wow, they really do love a bit of cringe over there. I created a digital cover letter on TikTok and uploaded it to the world with nothing to lose.
I knew I had to bring something new and relevant in contrast to the dull written letters bursting with buzzwords and company pillars for success. This one-minute video demonstrated what I achieved, how my accomplishments prove beneficial in a newsroom, all topped with a sprinkling of personality: something I'm not sure the robot CV scanners can pick up on just yet.
The video has now received over 7,000 views and 220 interactions. That's 7,000 more people I've been able to grab 60 seconds from than before. At the very least, it expanded my network, with 50 more (real!) people from the industry reaching out to connect.
I've had six calls with exciting and relevant people in the field, all generous enough to give up an hour of their time to offer advice and direction. These were strangers who recognized the effort I was willing to put in and were compelled to reach out with ideas and advice.
It's the classic case of if you don't ask, you won't get!
Virtual coffees are happening, and even though job opportunities are slim right now, connections will last a lifetime. And don't get me started on the invisible job market. You know those positions that don't even get advertised! It's all about the right person at the right time.
So rather than wading through endless applications, I'm using this time to expand my network, develop contact lists, and reach out to new people. Recruiters clearly recognize the importance of experience, as they often require five years of it for entry-level roles (*rolls eyes*).
Eventually, they'll have to give us the chance to learn. Hopefully, this offers a spoonful of hope in these truly crazy times. I also look forward to having a LinkedIn feed flooded with cheesy videos that can guarantee some evening entertainment!