Did Ted Cruz really board a flight to Cancun amid Texas power outage?
On Wednesday night, Twitter was ablaze with photos appearing to show Texas Sen. Ted Cruz flying out of Texas, heading to Cancun, Mexico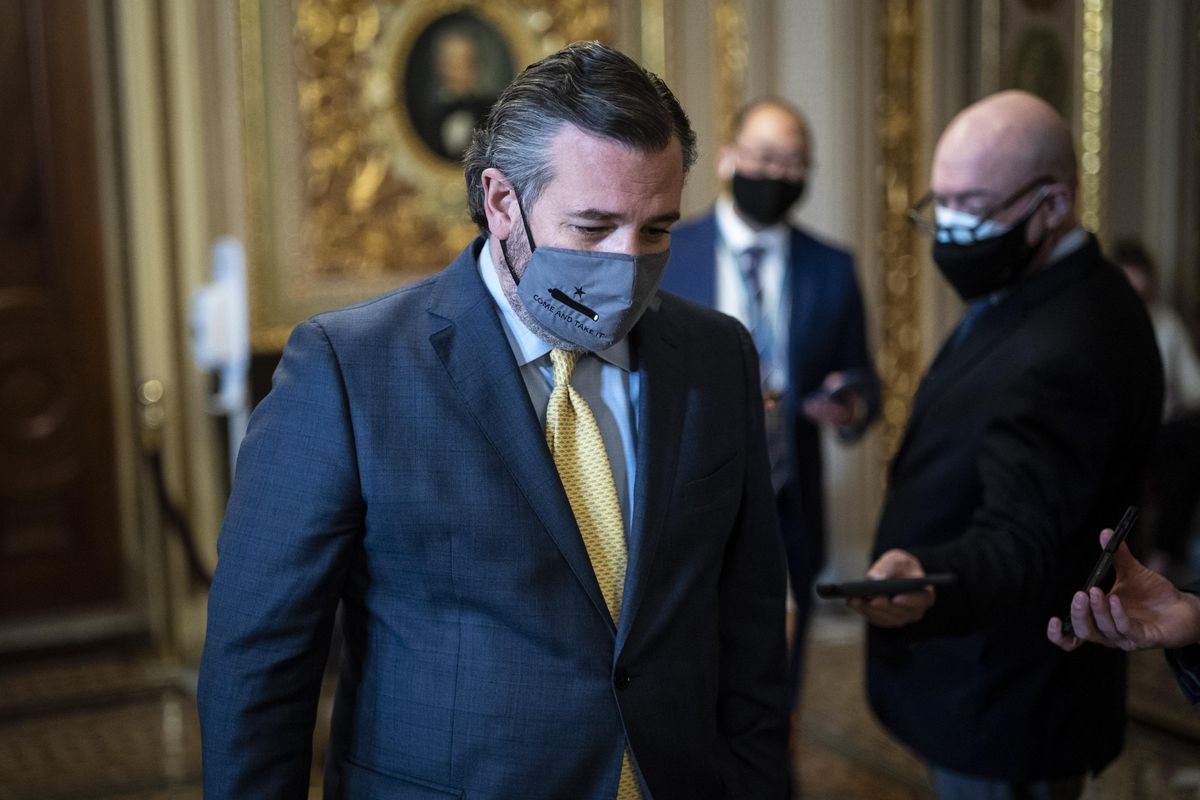 (Photo by Jabin Botsford / POOL / AFP) (Photo by JABIN BOTSFORD/POOL/AFP via Getty Images)
There's a truth universally known, that whenever a state is in crisis, its politicians are there to ease the burden. Well, most of the time. Sometimes, it doesn't quite work out that way. On Wednesday night, Twitter was ablaze with photos appearing to show Texas Sen. Ted Cruz flying out of Texas, heading to Cancun, Mexico.
---
The state of Texas has been under a state of emergency due this week's major winter storm, which has left 17 people dead and almost 3 million homes and businesses without power. Because flying to Cancun during a major snow storm, amidst a global pandemic, seems like the logical thing to do, right?
Although Cruz's office didn't confirm the senator's flight itinerary, the individual in the photos looks very similar to Cruz. Because of rolling blackouts throughout Texas, more than four million Texans are without power and heat.
"We are working around the clock to restore power to Texans," President and CEO Bill Magness of the Electric Reliability Council of Texas said. "We made progress today, but it will not be good enough until every person has their power back."
In addition to residents being without power and heat, there is a shortage of water supplies, with the state being under a boil-water advisory. However, because many residents are without power, that option is out of the question. Many individuals criticized Cruz on social media for abandoning his state during a time of emergency.
"As many in Texas freeze, struggle without any power or electricity and even die in one of the worst winter storms the state has ever seen, Texas Senator Ted Cruz and his family are enjoying a lovely vacation in Cancun. #VoteHimOut," journalist Amee Vanderpool wrote on Twitter
"Just confirmed @SenTedCruz and his family flew to Cancun tonight for a few days at a resort they've visited before," MSNBC news anchor David Shuster tweeted. "Cruz seems to believe there isn't much for him to do in Texas for the millions of fellow Texans who remain without electricity/water and are literally freezing,"
In addition, former Congressman, and Cruz's 2018 challenger, Beto O'Rourke slammed the Texas senator for flying to Mexico amid the statewide emergency.

While speaking to MSNBC's Morning Joe on Thursday, O'Rourke said, "is vacationing in Cancun right now when people are literally freezing to death in the state that he was elected to represent and serve?"
I mean, he has a point.
So where do you stand on the debate? Do you think it's acceptable for a senator to be flying to Mexico while his state is in chaos?
Submit a post below to share your thoughts on the debate. You can check out our top tips on getting your writing featured here.