Senator Bernie Sanders responds to viral inauguration memes: "I was just sitting there trying to keep warm."
Sanders was ready for the inauguration and winter chill —and I'm not mad about it.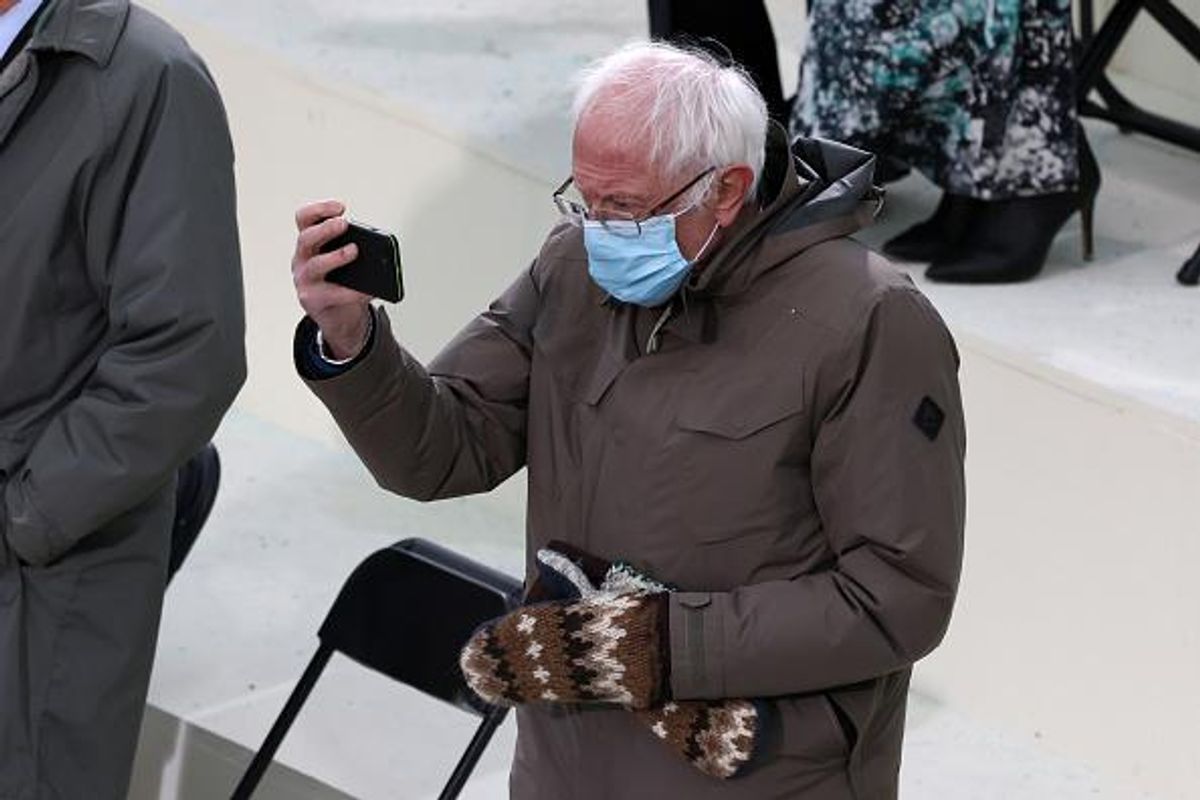 Photo by TASOS KATOPODIS/POOL/AFP via Getty Images
Sen. Bernie Sanders (I-Vt.) is no stranger to internet memes. Who could forget the "Hotline Bling" meme of 2015, or the "Once again I'm..." memes of 2020? The prominent advocate for fair wages and former presidential candidate is once again the center of the meme universe. On Wednesday, altered pictures began flooding the internet hours after President Joe Biden's inauguration.
---
Among the stylish fashion witnessed during Biden's inauguration ceremony (we see you, Michelle Obama), Sanders was spotted wearing his mask, his famous green parka, and mittens, sitting cross-legged and looking unimpressed. The image captured by photographer Brendan Smialowski for Getty Images, was heavily circulated over social media, inserting Sanders into scenes from movies like Forrest Gump, sitting on the New York City subway, an added addition to the California rap group, NWA, and on the beach with Chris Christie.
Despite the day being about Biden's inauguration, it seemed appropriate someone like Sanders would be the subject of one of the biggest memes on the internet since his support in the presidential race was from many millennial voters.
Take a look:
For the mittens in question, Buzzfeed reported that Sanders received the mittens he was wearing from Jen Ellis, a second-grade teacher in Vermont who makes gloves on the side. She sent him the gloves in 2016 after he lost the bid for the Democratic presidential nomination. The mittens are also made out of repurposed wool sweaters and lined with fleece, which is very eco-friendly and sustainable.

On the other hand, The National Bobblehead Hall of Fame decided to jump in on the action and create their own version of Sanders' now iconic pose.
I made Bernie's mittens as a gift a couple years ago. They are made from repurposed wool sweaters and lined with fl… https://t.co/sBhkUSSaeV

— Jen Ellis (@Jen Ellis) 1579572860.0
All in all, the memes provided amusement and vivacity after a long four of a tumultuous administration. Now, there is a reason to be in good spirits.

Update 01/22: Sen. Bernie Sanders (I-Vt.) reacts to his viral tweets on Late Night with Seth Meyers, saying, "I was just sitting there trying to keep warm."
Have you got something to say about this subject? Submit a post here and start the conversation.