The oddly fascinating reason Azealia Banks sold her sex tape as an NFT
Azealia Banks recorded the audio with her fiancée, Ryder Ripps, on blockchain and sold it as an NFT.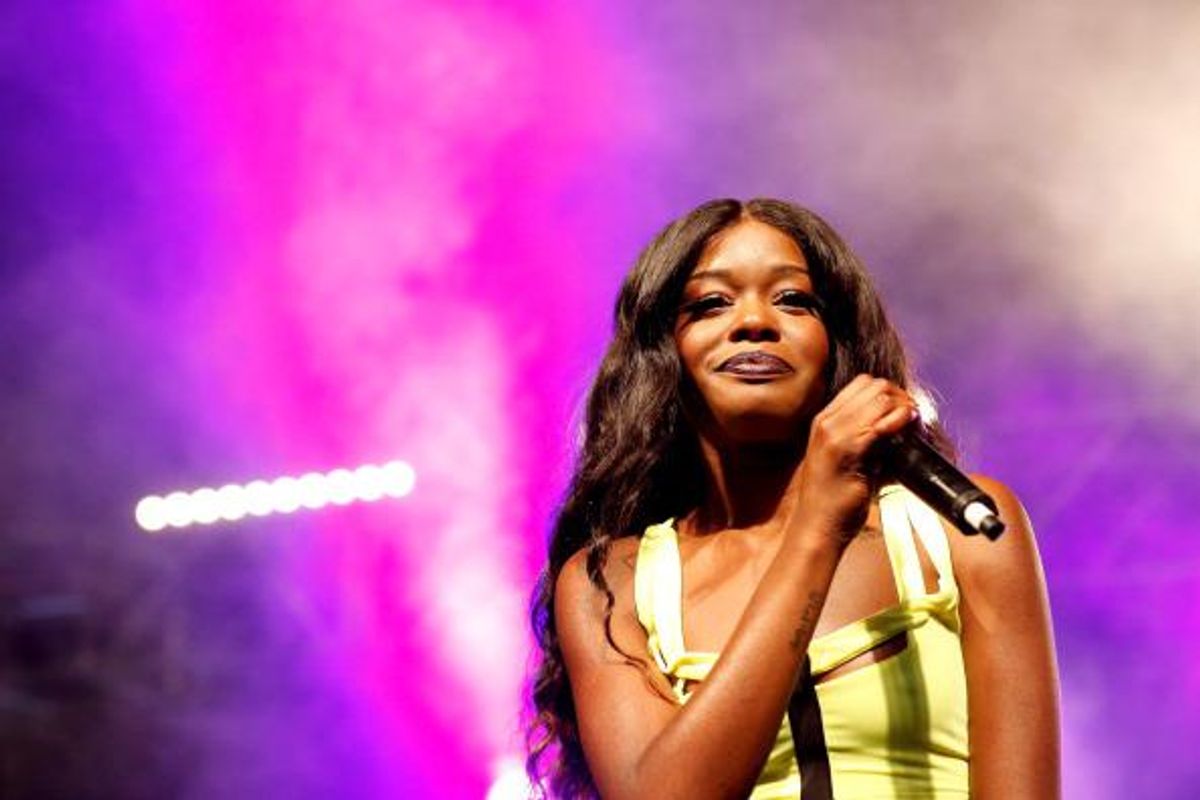 Photo by Simone Joyner/Getty Images
Azaelia Banks is trending again, and no, it's not for homophobic comments, celebrity feuds, occult interests, or appearing to dig up her deceased cat Lucifer to bring him back to life.
The Harlem-based rapper recorded an audio sex tape with her fiancée, Ryder Ripps, on blockchain and sold it as an NFT.
---
Yep, you read that correctly.
If you are unfamiliar with what NFTs, here is a quick summary. NFT's or non-fungible tokens are a way to own art pieces in the digital space as a crypto token. On the other hand, Bitcoin is fungible, which means it can be traded for an identical bitcoin that are not irreplaceable.
Moreover, examples of NFTs are memes, gifs, texts, and audio. What is also unique about NFTs is that there is nothing like it— they're one-of-a-kind and non-fungible. For example, Grimes releasing video art and Jack Dorsey releasing selling the first-ever tweet.
Purchasing an NFT such as Bank's sex tape with Ripps gives the buyer complete ownership of the item, which happens to be cached.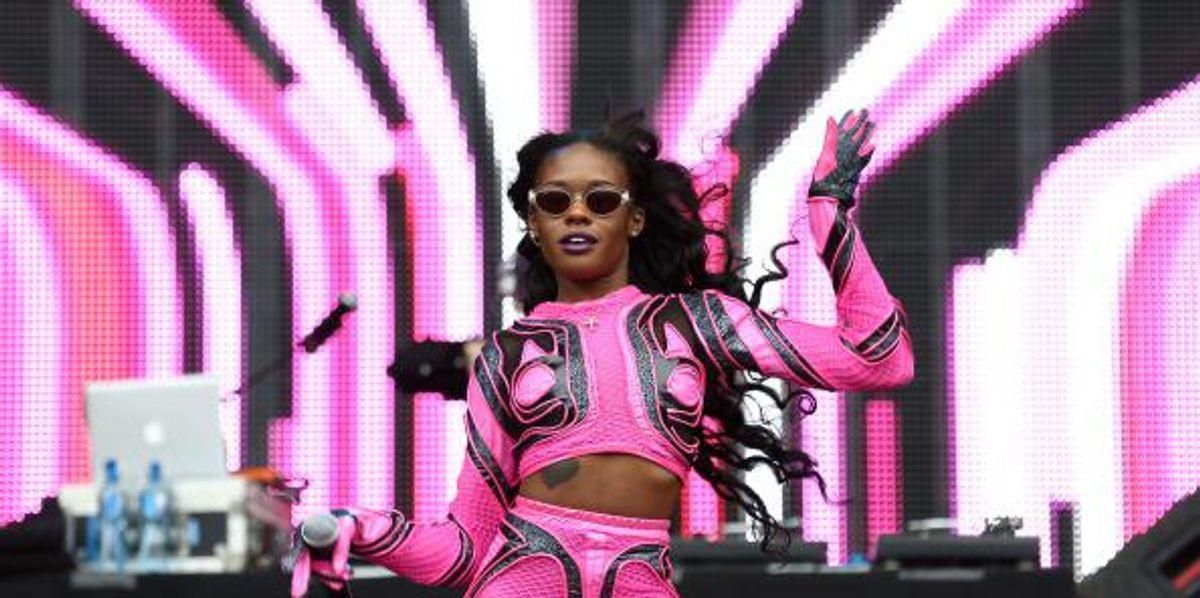 The peculiar place that is Azealia Banks' Instagramconversations.indy100.com
Reportedly, Fulton Fyder was the buyer of the audiotape, purchasing it for the set price of 10.00 ETH, or $17,240.40, not even 10 hours after it was released.

Fyder wholly owns the WAV file, audio, one signed LP vinyl LP, and the rights to distribute and display as he sees fit.
Oh my.
Here's the description of the audio tape:
"This sale is for the full rights and sole access to the first audio sex-tape to be minted on the blockchain. Recorded in February 2021 by Azealia Banks and boyfriend Ryder Ripps, this sound-based artwork is sure to titillate for its full 24:22 duration. Upon purchase, a WAV file will be delivered to the buyer in addition to a 1 of 1 signed LP vinyl record. Full ownership, including limitless distribution and display rights, are included in this sale. Don't miss out on this historic & sexy event."
After the sale, Banks posted Instagram stories to explain her stance on the magical world of cryptocurrency, NFTs, and why she decided to create and sell a sex tape.
"Literally- the most expensive NFT ever," she stated in the post's caption. "Don't you love how We came saw and conquered this shit in a matter of 48hrs? The fucking iconnery @ryder_ripps."
She also made commentary as to why she feels like "this crypto s*** is a scam," as well as believing that the value of sex will be relatively the same 100 years from now ( as well as food and water), whereas "goofy 3D cherubs" will disappear.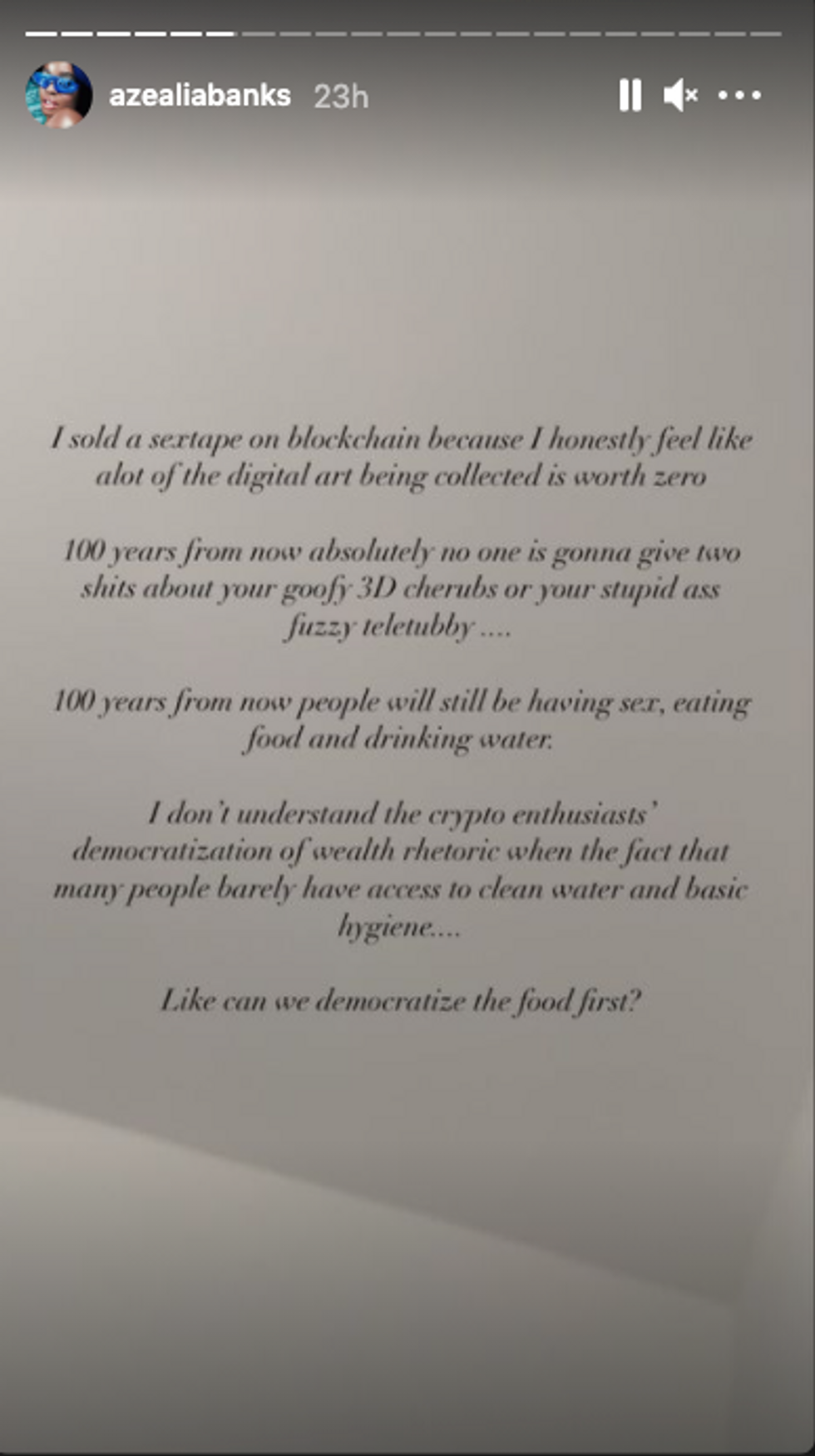 ScreenshotAzealia Bank's Instagram
This is probably one of the most oddly interesting things I've encountered in a long time, especially when it comes to her apparent proclamation of understanding the bigger picture of the lack of clean water and food that people worldwide may not have access to.
Despite this, I will continue to be intrigued to see what other people will do in this digital space to prove a point, even if it's a part of the "sex sells" mindset.
What are your thoughts on the cryptocurrency world and NFTs?
Have you got something to say about this subject? Submit a post here and start the conversation.