Study shows the Olympics is most LGBTQIA+ friendly sporting event ever
All eyes are now fixed on Tokyo, where a new record for participation has been set.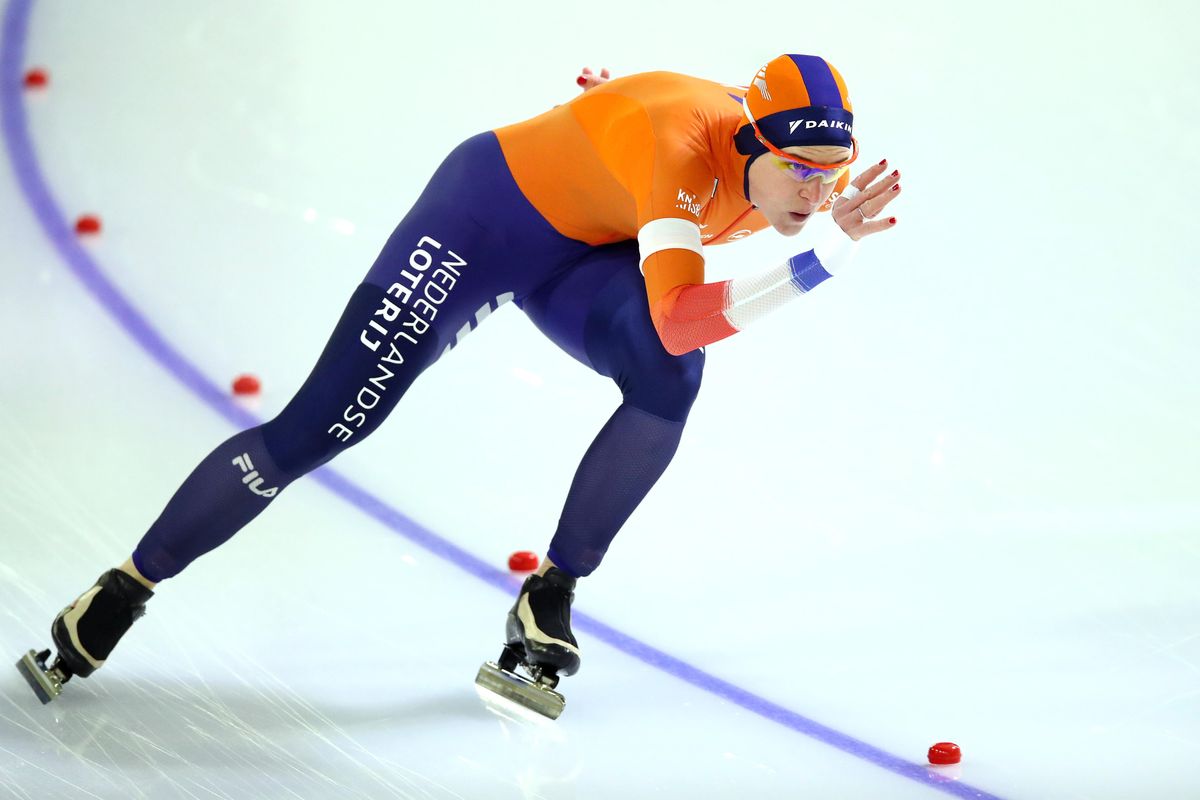 Photo by Dean Mouhtaropoulos/Getty Images
"I feel incredibly proud to say that I am a gay man and also an Olympic champion. When I was younger, I didn't think I'd ever achieve anything because of who I was."
These are words from the new Olympic gold medal winner, Team GB's Tom Daley, after he and partner Matty Lee took first place in synchronised swimming on Monday 26 July.
Research recently conducted by OnlineGambling.ca finds that almost 230 LGBTQIA+ athletes have competed at the Summer and Winter Olympics from 1928-2016.
All eyes are now fixed on Tokyo, where a new record for participation has been set, with almost 170 out LGBTQIA+ athletes competing.
The LGBTQIA+ community is no doubt following the progress of trans weightlifter Laurel Hubbard, who has made history as the first openly transgender athlete to compete at the Summer Games.
Record Number of LGBTQIA+ Athletes at the Olympics
Numbers have been steadily rising since Renée Sintenis and Otto Peltzer became the first known members of the LGBTQIA+ community to take part in the Amsterdam Olympics of 1928, with 230 athletes having competed at the Winter and Summer Games to date.
While Sintenis took Bronze in the now-defunct Sculpture event – making her the first LGBTQIA+ medallist – fellow German and middle-distance runner Peltzer was imprisoned by the Nazis because of his homosexuality in the 1940s.
This year's "diversity" Olympics will see triple the number of out LGBTQ+ athletes compared to the games in Rio de Janeiro in 2016, which saw 75 LGBTQIA+ athletes compete.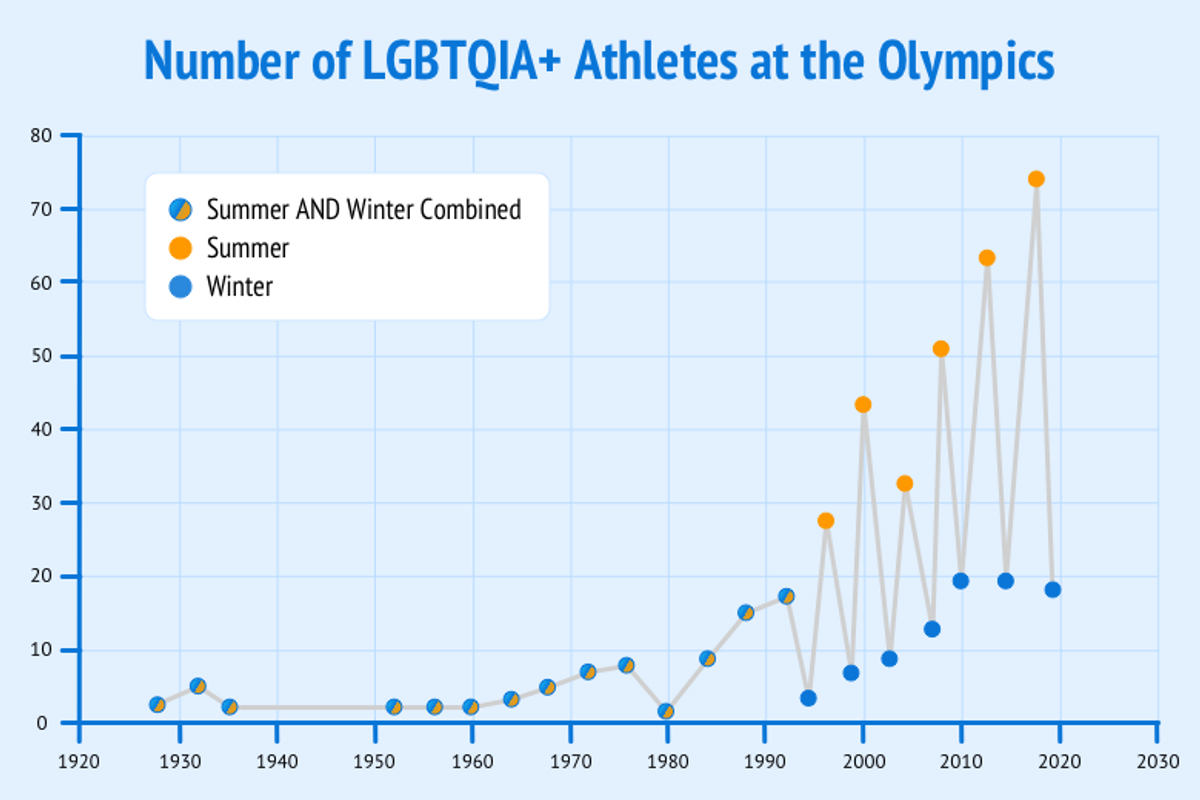 Record Number of LGBTQIA+ Athletes at the OlympicsPhoto courtesy of OnlineGambling.Ca
Number of Olympic Medals Won by LGBTQIA+ Athletes
Debuting at the Olympics at the tender age of 14, Tom Daley is the most recent athlete to win a gold medal. The 27-year-old British diver finally got his hands on the gold at his fourth game in the synchronised diving with partner Lee Pip earlier this week.
Outsports, the news site focusing on LGBTQ athletes, is currently tracking medal wins for what they have called "Team LGBTQ" and so far one gold, four silver and three bronze medals have already been won by athletes from the community.
These medals – added onto the previous 93 gold, 75 silver and 61 bronze medals from 1928 to 2016 – bringing the total to 94 golds, 79 silver and 64 bronze medals won by LGBTQIA+ athletes so far.
Top Countries with the Most LGBTQIA+ Olympic Athletes
When it comes to the nation with the most LGBTQIA+ athletes to have competed at the Olympic Games, the USA is out in front with 47 and counting. Neighbouring Canada is second with 33.
The top European country is the Netherlands in third place with 20 athletes. Germany is in fourth with 18.
The promised new bill against LGBTQIA+ discrimination was dropped by Prime Minister Yoshihide Suga's ruling party despite Japan getting ready to host what is meant to be a "diversity" Olympics.
Historically there have been no athletes representing Japan from the LGBTQIA+ community and this year proves to be no different.
The Top 5 most successful LGBTQIA+ athletes at the Olympics
Dutch speed skater Ireen Wüst has the most medals with five Gold, five Silver and a Bronze across the last four Winter Games. She is the most successful LGBTQIA+ Olympian of all time.
Australian freestyle and medley swimmer Ian Thorpe comes second with five Gold, three Silver and a Bronze in the pool.
Artistic gymnast Karin Büttner-Janz – who represented the old East Germany in 1968 and 1972 – got seven Olympic medals: two Gold, three Silver and two Bronze.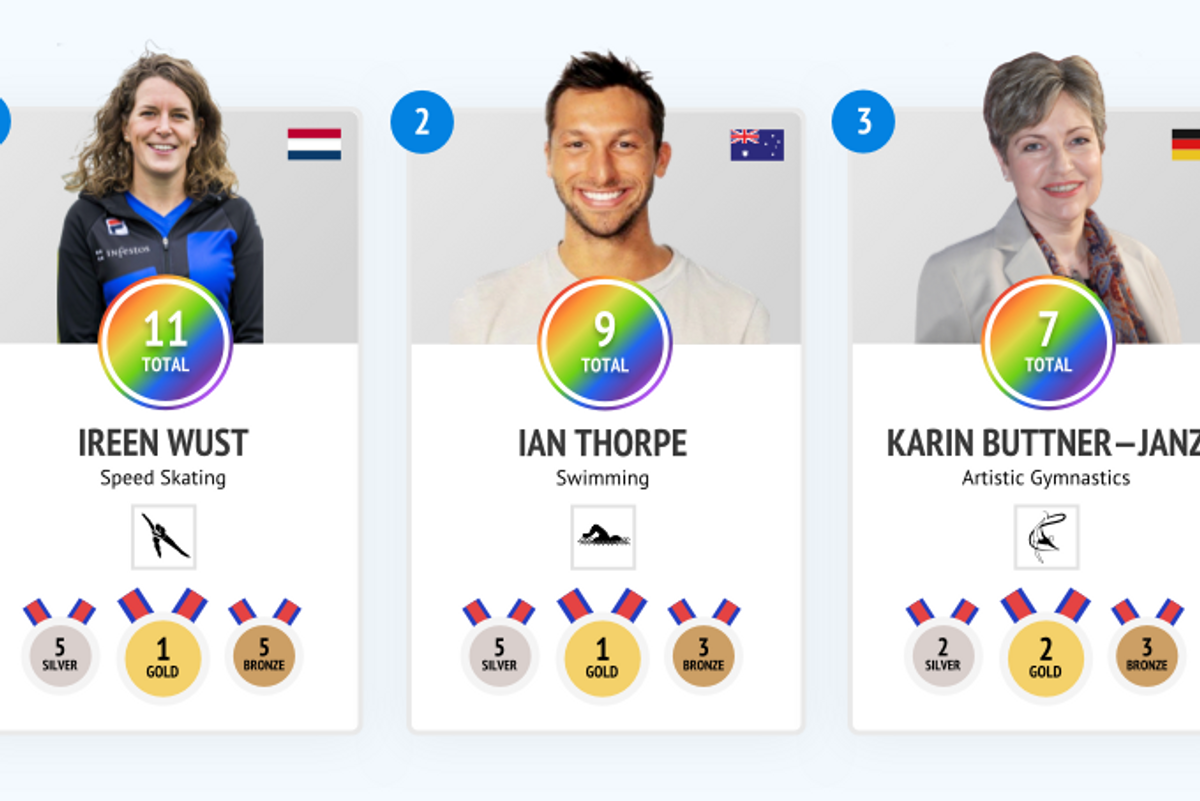 The Top 5 Most Successful LGBTQIA+ Athletes at the OlympicsPhoto courtesy of OnlineGambling.Ca