Amber Heard weighs in on Marilyn Manson allegations, accuses Hollywood of negating abusive behavior
When did it become acceptable to normalize abusive behavior instead of condemning it, and why is it still considered tolerable within our culture?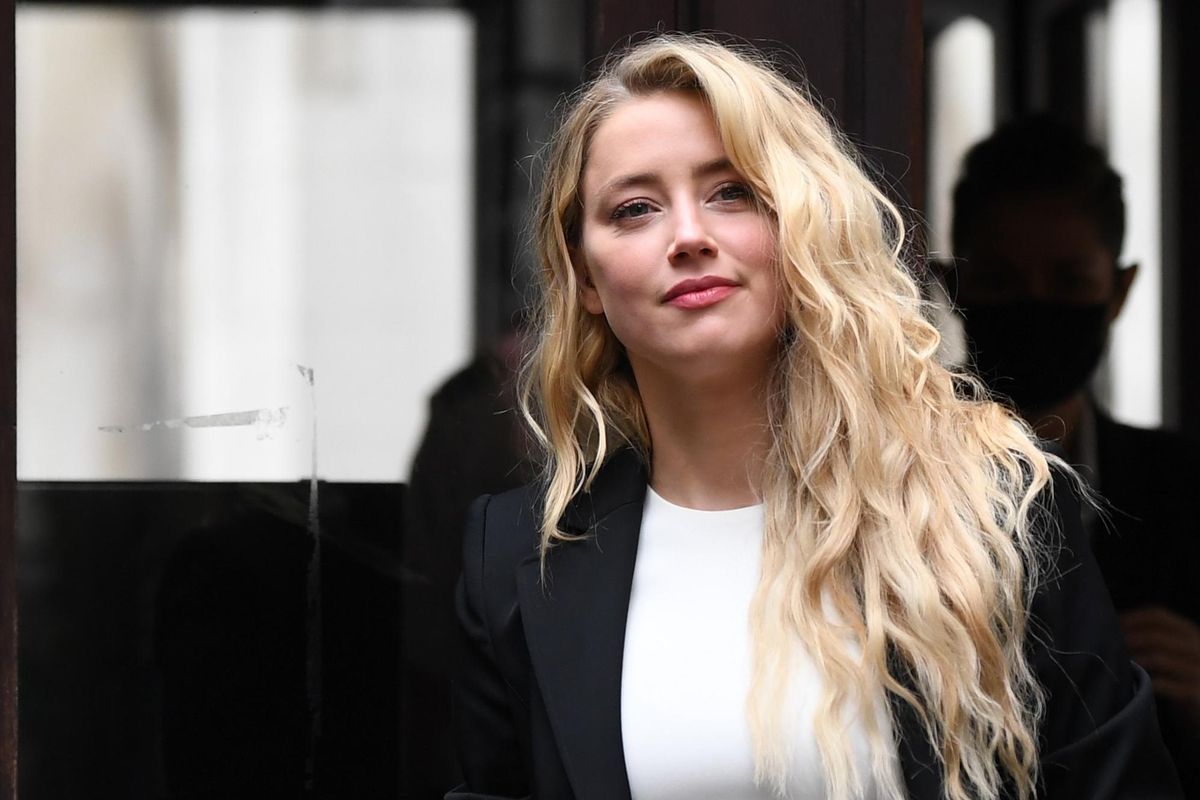 Photo by DANIEL LEAL-OLIVAS/AFP via Getty Images
It's been a busy week for toxic and abusive men. Well, one. On Monday, actress Evan Rachel Wood named rocker Marilyn Manson as her former abuser, stating he manipulated and horrifically abused her for years. Within hours after Wood broke her silence, four additional women posted their own allegations against Manson, claiming they experienced sexual assault, psychological abuse, and/or various forms of coercion, violence, and intimidation by him.
---
Upon news of the allegations, Manson was immediately dropped from his record label, Lorma Vista Recordings. Although this is satisfying news, it's irritating it took a sexual assault allegation to make it happen. It's even more frustrating it took four additional women to come forward to support Wood's claims. Especially when you consider Manson based his entire platform off singing about abusing and torturing women. Is it really that farfetched he could bring that persona to life off-stage?
One actress who's weighing in on the allegations is Amber Heard.
On Thursday, Heard took to Twitter and criticized the entertainment industry for turning a blind eye to the alleged abuse.
"And yet, no one sees the trend here?" Heard wrote in the tweet. "Everyone wants to tag a Bathroom wall, no one wants to understand the writing. Evan & I aren't the 1st to raise our hands. Are you done ignoring it?"
Heard, who was formally married to actor Johnny Depp, testified in court last year, stating Depp physically abused her during their four-year relationship. In court documents filed in May of 2016, Heard alleges that during the "entirety" of their four-year relationship, "Johnny has been verbally and physically abusive to me."
...... and yet, no one sees the trend here? Everyone wants to tag a Bathroom wall, no one wants to understand the writing. Evan & I aren't the 1st to raise our hands. Are you done ignoring it? The Marilyn Manson Reckoning | The New Yorker https://t.co/NboMFBHV0t
— Amber Heard (@realamberheard) February 4, 2021
Manson is a close friend of Depp and happens to be godfather to Depp's daughter, Lily-Rose Depp. Depp has since denied allegations of abuse.
In addition to the tweet Heard shared, she included a New Yorker article written by Amanda Petrusich, acknowledging Manson's disturbing obsession with sexual violence. The article highlights Manson's "grotesque persona both on- and offstage," touching on a 2009 interview he did with Spin, where he was quoted (referring to Wood) saying he regularly fantasizes "about smashing her skull in with a sledgehammer,"
Manson's pattern of emotional abuse continued, when he described resorting to harming himself on Christmas Day after Wood ignored his calls.
"Every time I called her that day—I called 158 times—I took a razor blade and I cut myself on my face or on my hands," he said in the same Spin interview. "I wanted to show her the pain she put me through. It was like, 'I want you to physically see what you've done.'"
This was clearly an admission to emotional abuse, where the abuser manipulates the victim into feeling guilty for something they have no control over. This is also known as gaslighting, a form of emotional manipulation.
At the time, it didn't occur to anyone that Manson's behavior was abusive. In fact, it seemed as if Manson's problematic behavior was ignored - downplayed as the theatrics of a rockstar. In response to the 2009 Spin interview, Manson's representatives brushed off the comment, referring to it as "obviously a theatrical rock star interview promoting a new record, and not a factual account."
Not only did Manson find success in glorifying and exploiting violence towards women, he based his entire identity off of it. Rather than being reprimanded for his sadistic behavior, Manson was rewarded with fame and profit.
I find it hypocritical his record label chose to cut him loose now when they continued benefitting off his macabre-like image for years. For crying out loud, the guy adopted the surname of a sadistic serial killer, who spearheaded a murderous campaign during the 1960s, in which one of his victims was eight-and-a-half months pregnant.
Need I say more?
Wood has always been vocal regarding her experience with sexual abuse. In 2018, she testified before the House Judiciary Subcommittee, sharing her story of abuse.
"My experience with domestic violence was this: Toxic, mental, physical and sexual abuse which started slow but escalated over time, including threats against my life, severe gaslighting and brainwashing, waking up to the man that claimed to love me raping what he believed to be my unconscious body," Wood told the subcommittee.
The following year, Wood testified before the California Senate Public Safety committee on behalf of the Phoenix Act, in which she explains the man who abused her began grooming her when she was just 18.
"When I was a teenager I met a man. I looked up to him in many ways and felt like we had a special bond, and I had no intention of it turning into something romantic. When it eventually did, I wasn't sure how to stop it as he had a certain charisma and power and I quickly surrendered to his charms. In the beginning, he treated me like a princess. I was smart, but a smart eighteen-year-old is still an eighteen-year-old, and I thought I had fallen in love," Wood told the committee.
It doesn't take Sherlock Holmes to connect the dots and realize who Wood was referring to.
Manson is clearly a troubled individual with a perverted perspective of women. He obviously needs a tremendous amount of mental help. All the evidence of Manson's abuse was front and center. But instead of providing him with the resources he needs, Manson's team chose to ignore it, chalking it up to an amplified persona.
Then again, this is nothing new. Sexual assault survivors are continuously met with skepticism, and it isn't until multiple women come forward with the same story when it's noticed. It is this precise reason why many survivors are hesitant to come forward in the first place.
When did it become acceptable to normalize abusive behavior instead of condemning it, and why is it still considered tolerable within our culture? Not only is this pattern atrocious, it's a damaging narrative to our society. We must dismantle this pattern in order to move towards a society free of misogyny and abuse. But more importantly, we need to hold men accountable for their unwarranted behavior and show them it will not be tolerated.
Only then can the healing begin.
Have you got something to say about this subject? Submit a post here and start the conversation.