Why the Suez Canal debacle pretty much sums up 2021
On Tuesday, the Ever Given ship became lodged in the Suez Canal, which caused a large-scale traffic jam on the waterway, almost clogging the passageway's entire area.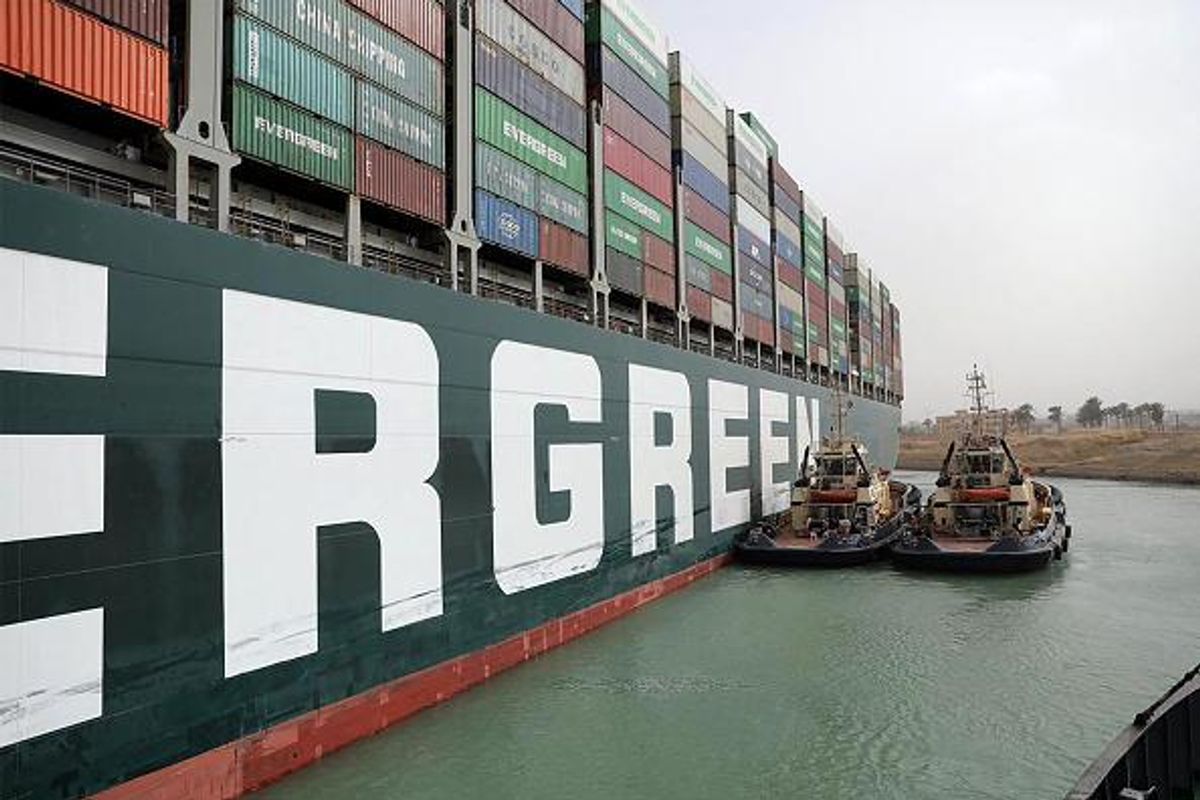 Photo by Suez Canal Authority/Handout/AFP via Getty Images
A lot is happening at the Suez Canal in Egypt. It is one of the world's largest and busiest waterways currently blocked due to a massive 224,000-ton container ship called the Ever Given.
What a name.
On Tuesday, the ship became lodged in the canal, which caused a large-scale traffic jam on the waterway, almost clogging the passageway's entire area.
---
The Suez Canal is an artificial waterway that connects the Mediterranean to the Red Sea through The Isthmus of Suez by providing a passageway between Europe, the Middle East, Africa, and Asia. It's also responsible for 10 per cent of global maritime commercial traffic.
The tankers that contribute to the total global oil production are now stuck, which will cause a 4 per cent increase in oil prices.
The Ever Given, which happens to be about 400 meters long, was heading to the Netherlands when it got stuck en route. George Safwat, a spokesperson for the Suez Canal Authority, noted that a sandstorm in Northern Egypt caused high winds an "inability to direct the ship" properly.
Once the Ever Given becomes unstuck, traffic will still take days to weeks to get back into the swing of things and global trade to recover.
At a news conference on Saturday, SCA Chairman Osama Rabie talked about the rescue mission.
"We are facing a difficult and complicated situation. We work in a rocky soil; the tides are very high, in addition to the huge size of the ship and the number of containers that make it difficult," said Chairman Rabie. "We cannot set a specific date for the ship to float. It depends on the ship's response."
As strategists continue to worry about how this could negatively impact the oil economy and the movement of consumer goods, everyone on the Ever Given and other vessels nearby is reportedly doing ok. Additionally, around eight tugboats are trying to free the ship, which is helpful despite its size.
Moreover, one of the most interesting things about the course of direction the ship embarked on is expressed below.
The blockage of this narrow canal and the trickle-down effects almost encapsulate everything that has transpired in the past year.

From making sure that the world is as good as it can be in a global pandemic to mental wellness, it reminds me of digging up an over 200,000-ton ship out of the sand and pushing it through a narrow passage for the world to see.
Eventually, we will prevail, no matter how embarrassing or difficult the journey was.
Want to share your thoughts and experiences with the world? Submit a post to Conversations today.