Adele's recent SNL appearance poses the age-old question: Why are women still pressured to lose weight?
With the explosion of fourth wave feminism, women are still feeling pressured to look a certain way. Why?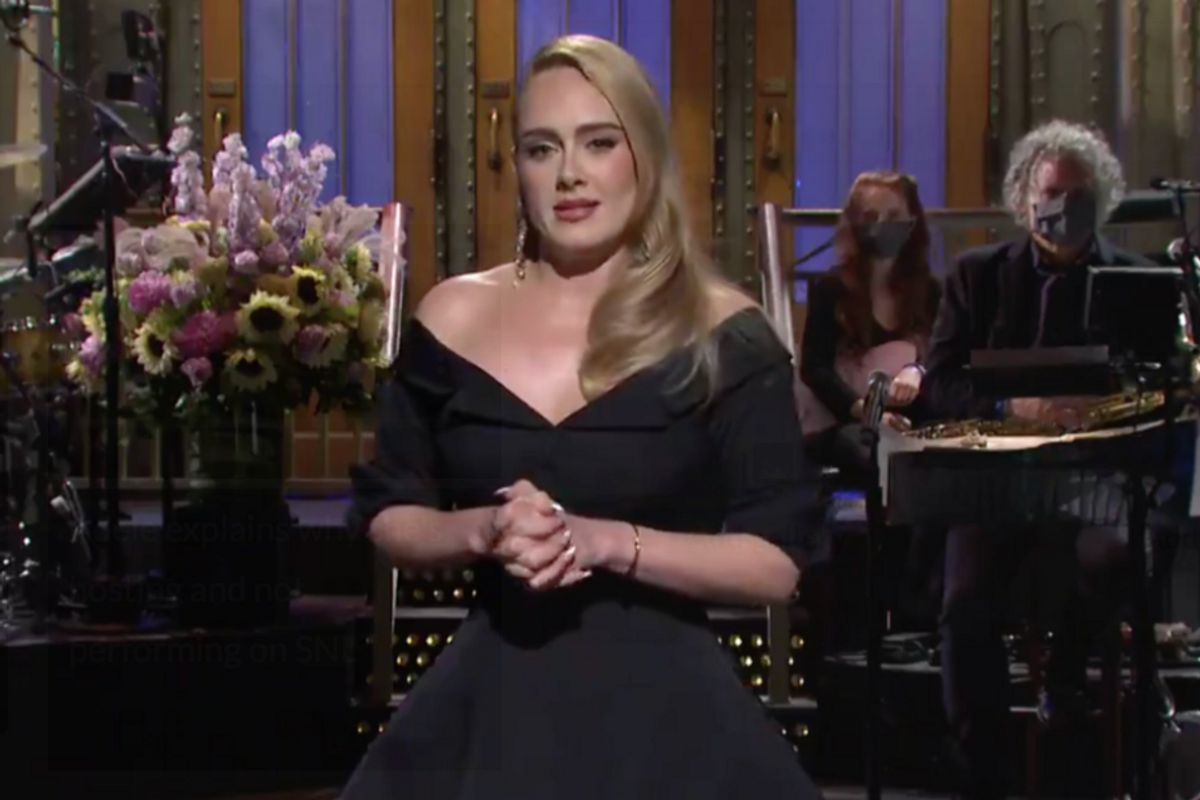 Photo credit: NBC Universal
By now, everyone is familiar with the term, 'body positivity.' From women's media publications, to clothing brands centering their campaigns around the term, it appears loving your body has never been more popular. But having confidence in your body is a lot easier said than done.
Unless you were born perfect, with a saccharinely positive outlook to match, loving your body doesn't instantly come natural. And if it does, congrats! We all envy you. Unfortunately we live in society that celebrates stick-thin perfection, and snubs its nose at anything reminiscent of curvaceous. It's unfair, but it's reality, and we can thank the unrealistic (if not sexist) portrayal of women in media for it.
---
Take Adele for example.
When the songstress arrived to host Saturday Night Live for the first time Saturday, she appeared thinner than usual, even making light of her weight loss.
"I know I look really, really different since you last saw me, but actually because of all the COVID restrictions and the travel bans, I had to travel light and only bring half of me, and this is the half that I chose," the singer joked.
Of course, everyone applauded the singer for her newfound figure, but many also criticized it. I was among the latter. You see, I always viewed Adele as the full embodiment of the body positivity movement. She struck me as someone who gave zero f**ks about what people thought of her. Although that still might be true, Adele's drastic weight loss sends a very clear message; that to be accepted into society, you have to look a particular way.
Then there's Kelly Osbourne, another celebrity who recently underwent a massive weight loss transformation. Osbourne recently revealed she underwent gastric sleeve surgery almost two years ago to maintain her weight. When Osbourne shared photos of her slim, new figure on Instagram, once again: fans rejoiced.
Numerous publications wrote how "gorgeous" and "beautiful" Osbourne looked, while celebrity fitness trainer Jeremy Kost said Osbourne looked like "such a rockstar." However, I can't help but think how unhealthy the overall message is. Think of it this way, when you have to undergo a risky surgery, for no specific reason other than to maintain a certain image, how ridiculous is that?
Gastric sleeve surgery is not a simplistic surgery doctors recommend to just anyone. It involves the removal of part of your stomach and joins the remaining portions together in order to make a new banana-sized stomach or "sleeve." The surgery is permanent, and whoever chooses to undergo it will have to alter their eating habits forever. The recovery time alone is difficult. It can take up to 2 or 3 months to begin eating regularly, but you will not be able to eat as much as you once did.
I'm all for maintaining a healthy diet, just as long as it doesn't involve such drastic measures... or doing it for the wrong reasons. But Kelly and Adele are just a few examples of the imperfect world we live in, which perpetuates unrealistic goals for women to look a certain way. It also doesn't help when people continue praising these unhealthy habits.
With the explosion of fourth wave feminism, I can't understand why the need to feed into sexist cliches still continues to echo. Women shouldn't feel pressure to look a certain way. After all, men don't go to extremes to look a certain way. Why should women?
In truth, learning to love yourself takes time. I'm 29 and I'm still figuring it out. After all, one doesn't wake up one morning thinking they're the most beautiful person in the world, similar to Amy Schumer in 'I Feel Pretty'. It takes time and patience. But it also shouldn't be rushed and when it is, you have to ask yourself; who are you really doing it for?