Women are used as weapons in conflict - but we are fighting back with empowering education
Persistent, harmful gender norms require long-term effort for change to be effective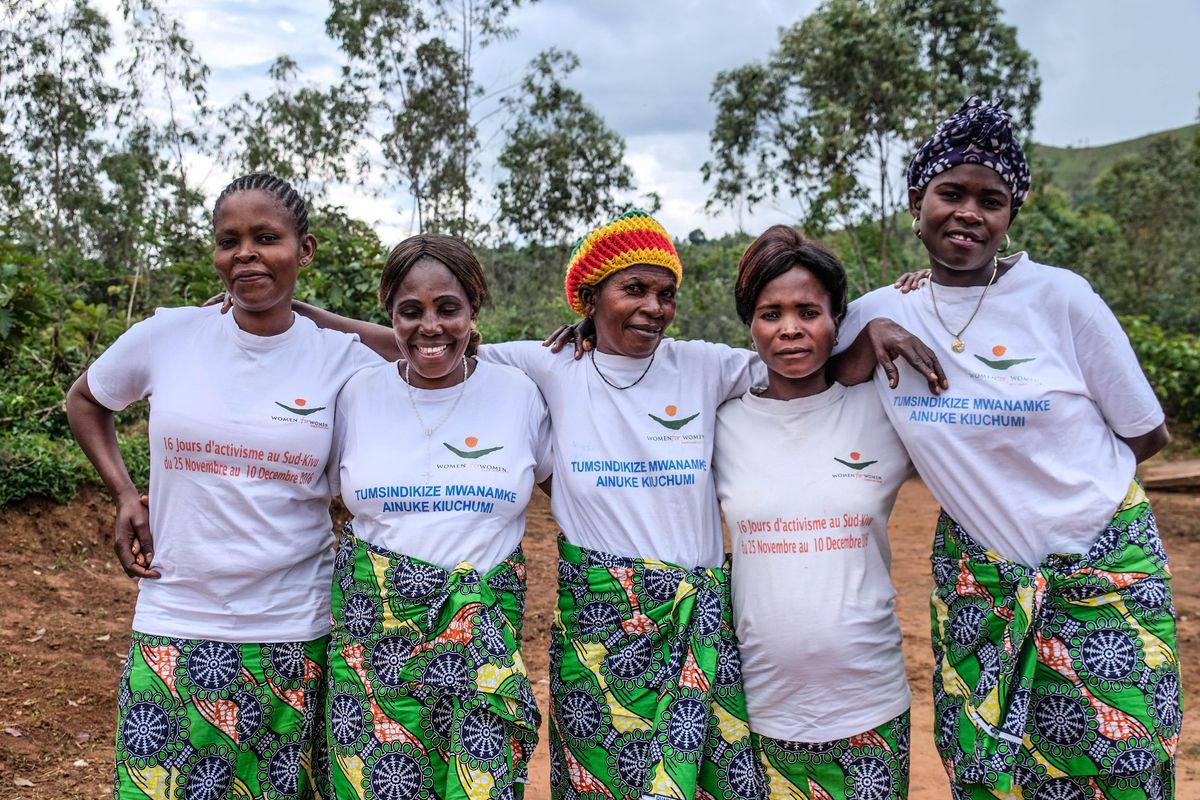 @Womenforwomenuk
Advocacy Coordinator, Women for Women International-DRC
https://www.facebook.com/womenforwomen/videos/update-from-the-drc/692160731616673/
@womenforwomenuk
My country, the Democratic Republic of Congo (DRC), has seen constant wars for over two decades. Women have been used as weapons in this conflict through individual and mass rape, sexual slavery, acts of mutilation, murders and massacres. Despite ceasefire agreements signed by the warring factions, the east of the country remains dangerous due to armed groups and militias which are uncontrolled and always active.
DRC has over 400 tribes, and each tribe has social norms one must follow in order to be an activemember of the community. These norms are completely patriarchal, keeping women and girls' status below that of men. The combination of conflict and rigid gender norms mean that women are permanently dependent on men, and viewed as a source of pleasure and material goods.
In the communities where I work, women face disproportionate levels of poverty, lack of basic infrastructure, and low levels of education – most cannot read or write. There is also a high prevalence of rape and domestic violence, and laws to protect women's rights aren't enforced. Over the past year, women have been affected by the COVID-19 pandemic, which has blocked all their activities. Women who relied on crossing the border to stock up and find ways to fund their children's education have found themselves without jobs. Meanwhile, their husbands, who are at home all day, have become more violent. Rates of domestic abuse have noticeably risen and many girls have fallen pregnant because they haven't been in school.
I've lived my whole life in Bukavu, a city in eastern DRC's South Kivu province. After training as a nurse, I decided I wanted to work in the humanitarian sector – specifically for an organisation which fights for gender equality and women's empowerment, which has always been close to my heart. As an Advocacy Coordinator for Women for Women International, I support the most marginalised Congolese women to defend their rights.
I manage a 'Change Agents' training programme, which teaches women advocacy and leadership skills, improving their ability to influence decisions at home, to establish networks, and to bring about positive, sustainable changes for themselves and their communities. The training builds women's knowledge of key issues such as violence against women and girls and women's economic empowerment. Women develop advocacy strategies to tackle these issues in their local communities, and learn practical skills to influence decision-makers and other community members. After taking part in the training, Change Agents are able to lobby for more effective protections for women through the law or politics. They can effectively challenge informal customs and traditions that prevent women from owning property, inheriting assets, or holding certain jobs. They also raise awareness of women's rights by passing on their knowledge and recruiting other women in the community.
Change Agents become role models for other women, and several have gone on to occupy positions of responsibility within their communities - notably as president of the Parent's Committee and Development Committee, and as a point of contact for gender-related issues within the community. Women are now being invited to key meetings on community issues, they can express themselves freely and their ideas are listened to. Thanks to Change Agents' advocacy, women and girls in certain families now have access to their inheritance. They've successfully advocated for the reduction of illegal taxes which target women's small businesses – removing barriers so that women can improve their socio-economic status.
Persistent, harmful gender norms that we see in DRC require a long-term effort for change to be effective. That is why it's vital for the international community to invest in women's advocacy – it has the power to transform society. If a woman knows how to take decisions, that hugely reduces the amount of violence committed against her, since she knows how to say no when something isn't acceptable to her. She won't allow her authority to be stifled or taken away by men. Women are the main producers of goods and the main providers of services in the communities we support - their participation and leadership is critical to ending cycles of poverty and conflict.
My work, and the success of our Change Agents in DRC, is made possible by the generosity of international funders such as players of the People's Postcode Lottery. As a time with governments are increasingly diverting funds and attention away from gender equality and women's rights programmes, their continued commitment gives us reassurance and hope for the future.
Looking ahead, we hope to be able to extend our programmes to many communities in DRC which are still in need. We are working to build strong, women-led alliances which will advocate at different levels in order to change harmful gender norms that are being reinforced by war and COVID-19. I see at first-hand how women can use their power to transform attitudes that fuel violence and discrimination, and lead the change towards more peaceful, stable and equal societies.