www.twitter.com
www.facebook.com
www.linkedin.com
www.instagram.com
Over the past decade, LGBT+ representation has increased dramatically, marking a step-change towards greater freedom and equality for individuals across the societal divide. Indeed, many of the world's most acclaimed artists, musicians and cultural figures identify as LGBT+ – from legends like Elton John and Giorgio Armani to contemporary personalities like Lady Gaga, Miley Cyrus and Demi Lovato.

But of all the famous faces who identify as LGBT+, who are the most influential? And which inspirational figures offer the most in terms of charitable donations and cultural clout?
In this in-depth guide, we're shining a light on the world's most influential LGBT+ artists, entrepreneurs and cultural figures. Exploring things like net worth, demographics and social followership, we'll also compare LGBT+ personalities to those who identify as heterosexual to see if there's any disparity between gender and sexual orientation.
Find out what our research threw up, and how we did it, in our complete guide below.
How We Did It
We used data from the Forbes Rich List to analyse the net worth of LGBT+ billionaires and supplemented this with further research to discover the net worth of other high-earning LGBT+ entrepreneurs. This allowed us to come up with a list of the 50 richest LGBT+ entrepreneurs overall.
Putting these names through Google Keyword Planner, we discovered how often people had searched for them online. We then used our media database to find out how many social followers each entrepreneur had and how many times they had been mentioned in the press.
From there, we combined their net worth, Google search volumes, social media followers and press mentions and assigned each category 25 points. This gave each LGBT+ entrepreneur a total point value out of 100, allowing us to rank them in order of total influence.
The World's Most Influential LGBT+ Entrepreneurs Overall
LGBT+ culture has had a massive impact on society, helping to break down barriers while ushering forward a generation of progressive thinkers. But the question remains: who are the world's most influential LGBT+ figures?
Find out in our visual guide below.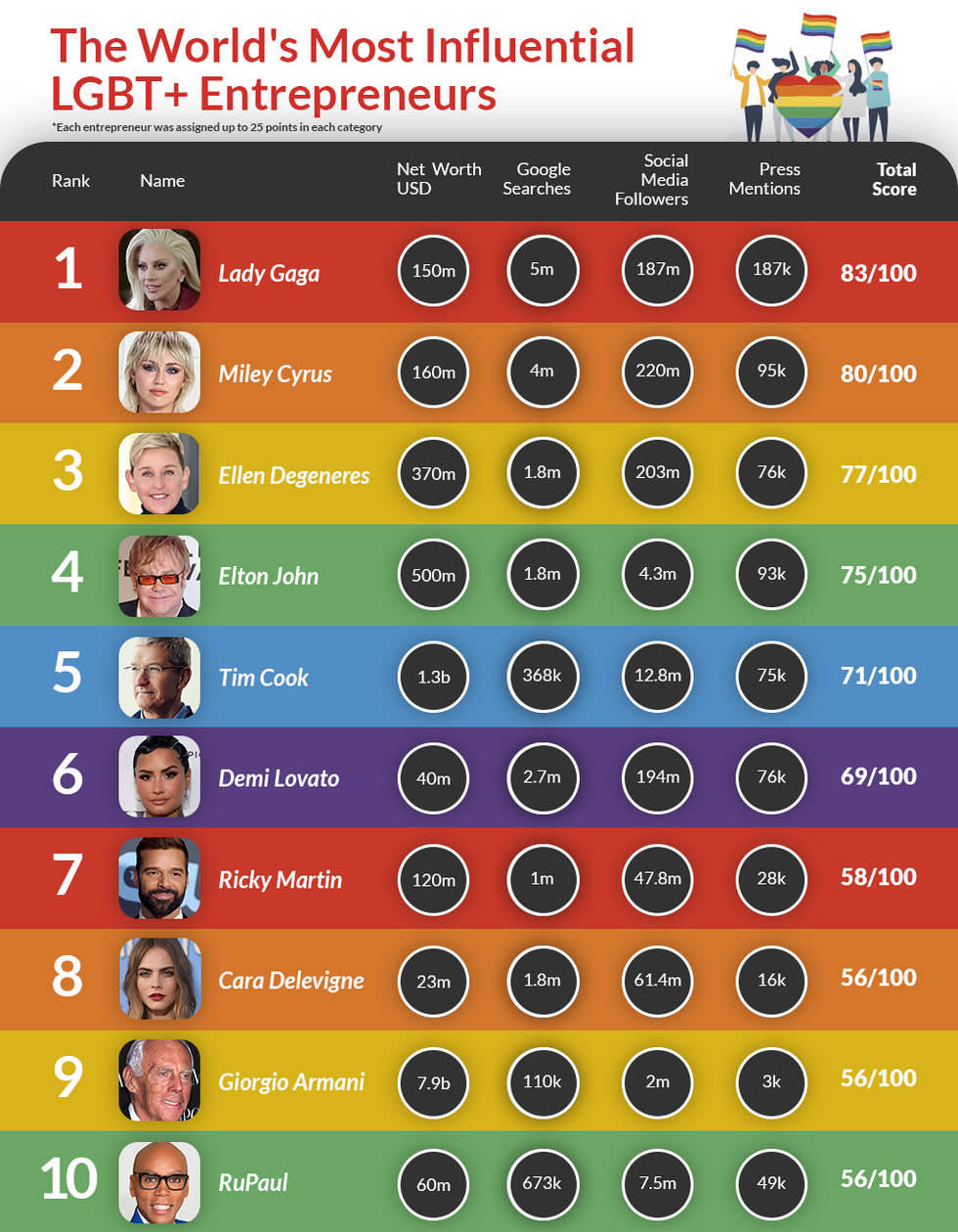 World's Most Influential LGBT+ EntrepreneursPhoto courtesy of JS3 Global
1.Lady Gaga
Although her net worth is substantially lower than the top 10 richest LGBT+ entrepreneurs (at just $150 million), Lady Gaga is the most influential LGBT+ entrepreneur in 2021. That's thanks to the huge popularity she has between her high search interest and social following – an astronomic online presence that contributes much to her business ventures.
.Alongside her mother, Lady Gaga runs a mental health charity, Born This Way Foundation, which she established back in 2012. She also owns her own cosmetics company, Haus Laboratories, which, as well as offering 100% vegan and cruelty-free makeup, also donates $1 for every product sold to charity.

2.Miley Cyrus
Miley Cyrus is the second most influential LGBT+ entrepreneur. She has a net worth of $300 million and over 220 million followers on social media.
Outside of producing music, Cyrus started The Happy Hippie Foundation in 2014 that focuses on youth homelessness and protecting the LGBT+ community. And at 28 years old, she's the youngest artist and entrepreneur to make the top 10.
3.Demi Lovato
Starting their own charity, The Mental Health Fund, amid the Covid-19 pandemic, Demi Lovato is the third-most influential LGBT+ figure in the world. That's thanks to a sizeable net wealth and huge social following, not to mention over 2.7 million related searches on Google.
Lovato is one of three pansexual people to make the top 10 most influential list and recently came out as non-binary
4.Ellen Degeneres
Known for her comedy and television career, Ellen Degeneres has an empire of businesses and charities around her that contribute to her influential entrepreneurship, including the Ellen Degeneres Wildlife Fund, ED Ellen Degeneres (a lifestyle brand) and, of course, her production company, A Very Good Production, which produced The Ellen Degeneres Show.
At 63, Degeneres is widely regarded as a leading figure within the LGBT+ community and has successfully leveraged her platform to raise awareness of LBGT+ issues for over 40 years.
5.Elton John
Considered one of the most iconic LGBT+ artists of all time, Elton John has enjoyed an illustrious and colourful career spanning over five decades. To date, John has produced 30 albums, selling over 300 million copies around the world.
As well as an illustrious music career, John is known for his philanthropy and charity work. In 1992, he founded the Elton John AIDS Foundation, which remains one of the most important organisations set up by an LGBT+ figure.
6.Ricky Martin
Latin American pop icon Ricky Martin has run the Ricky Martin Foundation for the last 20 years, protecting children's rights and helping to raise awareness of LGBT+ issues. Described as 'The King of Latin Pop', Martin is revered for his humanitarian work as well as his passionate LGBT+ advocacy.
7.Tim Cook
Having served as Apple Inc.'s chief executive since 2011, Tim Cook is regarded as one of the most high-profile LGBT+ figures in the world of business and entrepreneurship. This is backed by a tremendous social followership, as well as over 75,000 mentions in the press.
8.Cara Delevigne

British model, actress and singer Cara Delavigne is among the most influential LGBT+ millennials of her generation, with a vast, 60-million strong social followership. Delavigne identifies as pansexual and genderfluid.
9.Giorgio Armani
Despite overseeing a powerful online brand, legendary Italian fashion designer Giorgio Armani doesn't have much presence himself on social media. Instead, he draws influence from his enormous media presence, and remains one of the wealthiest openly LGBT+ people in the world, second only to David Geffen.
10.RuPaul
American drag icon RuPaul is revered for his work raising awareness for drag and LGBT+ culture around the world. After a storied career in the entertainment industry, this charismatic figure remains one of the most influential figures in LGBT+ culture.
Net Worth Compared: LGBT+ vs Heterosexual
While it's clear LGBT+ representation has increased in recent years, there are still major disparities in terms of equality, opportunity and pay parity. This is evident when comparing the net worth of heterosexual and LGBT+ entrepreneurs, as highlighted in our visual below.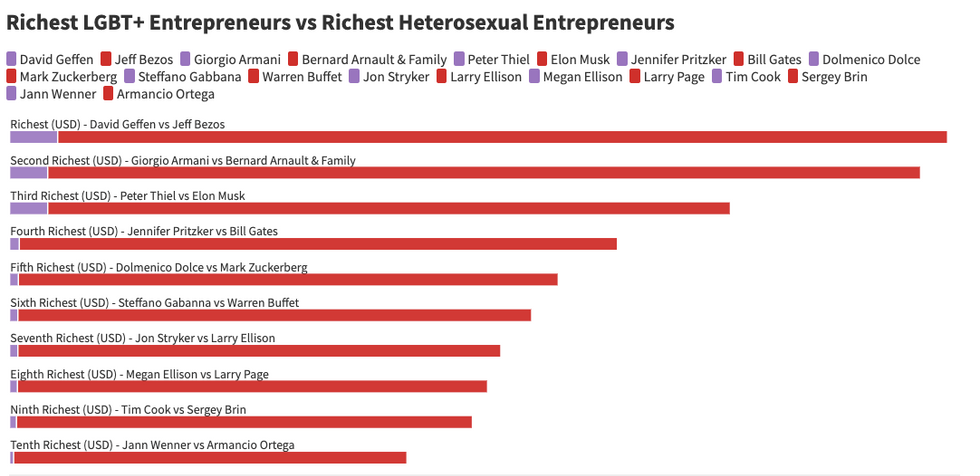 Richest LGBT+ Entreprepreuners vs Richest Heterosexual EntrepreunersPhoto courtesy of JS3 Global
The LGBT+ rich list is more diverse than its heterosexual counterpart, with two women, Megan Ellison and Jennifer Prtizker, making the cut. Prtizker is one of three transgender people influential enough to feature in our research, and she is also the only transgender billionaire in the world. By comparison, the top 10 rich list overall has only heterosexual men.
When it comes to net worth, remarkably, there's a $177.5 billion disparity between the richest heterosexual billionaire and the richest openly LGBT+ billionaire. David Geffen, the wealthiest openly gay LGBT+ person in the world, ranks just 233rd on the Forbes Rich List.
Elsewhere, there were interesting differences in how and where entrepreneurs acquired their fortunes. The world's richest billionaires are primarily associated with technology, e-commerce and finance. LGBT+ entrepreneurs, on the other hand, most commonly succeed in more creative industries such as fashion, television, and film and music production.
Demographics of World's Richest LGBT+ Entrepreneurs
So, we've established that there are major variances between heterosexual and LGBT+ entrepreneurs, but how do LGBT+ figures compare with one another? Exploring the demographics of our most influential list, we discovered the following: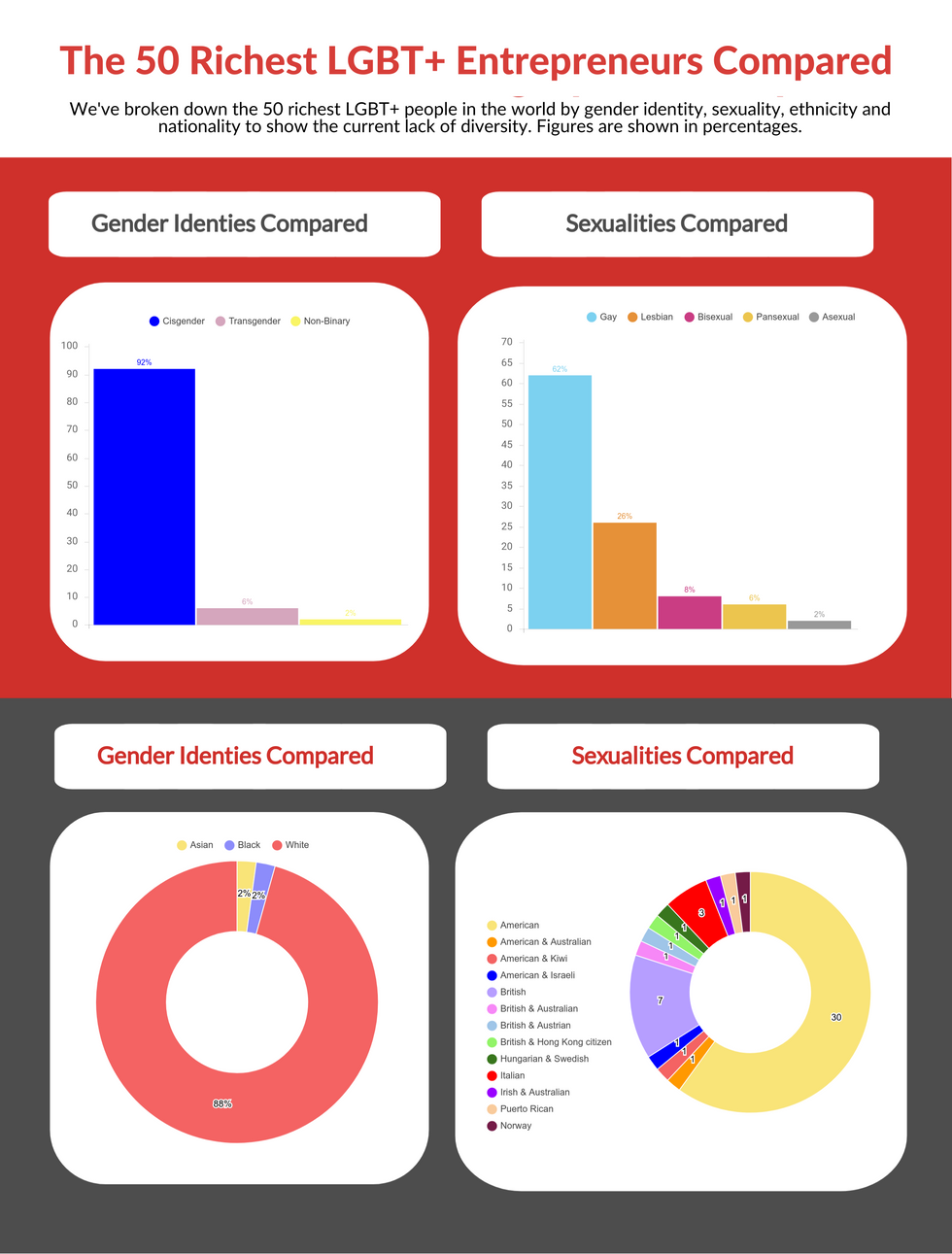 50 of the World's Richest LGBT+ EntrepreneursPhoto courtesy of JS3 Global
Gay men made up 58 per cent of the world's most influential LGBT+ entrepreneurs
Lesbians made up 25 per cent of the world's most influential LGBT+ entrepreneurs
Bisexuals made up just 7 per cent of the world's most influential LGBT+ entrepreneurs
RuPaul was the only black LGBT+ entrepreneur to appear in our top 50 LGBT+ Rich List
There was just one Asian LGBT+ entrepreneur with a high net worth, Gigi Chao, who we estimated has a fortune of between $1 and $5 million overall
There were just three transgender entrepreneurs – one of these is Jennifer Pritzker, who is the fourth-richest LGBT+ entrepreneur in the world
There were only three pansexual entrepreneurs (Demi Lovato, Miley Cyrus and Cara Delevigne), but all three made it into the top 10 most influential list
Most Charitable LGBT+ Entrepreneurs
LGBT+ entrepreneurs are well regarded for their activism and philanthropy, with many donating large sums to charity or else establishing their own initiatives. But of the world's influential LGBT+ figures, who is the most charitable? And to which causes are they most likely to donate to?
While we don't have data for exactly how much each entrepreneur donates, these are the 10 entrepreneurs donating to the greatest number of different causes.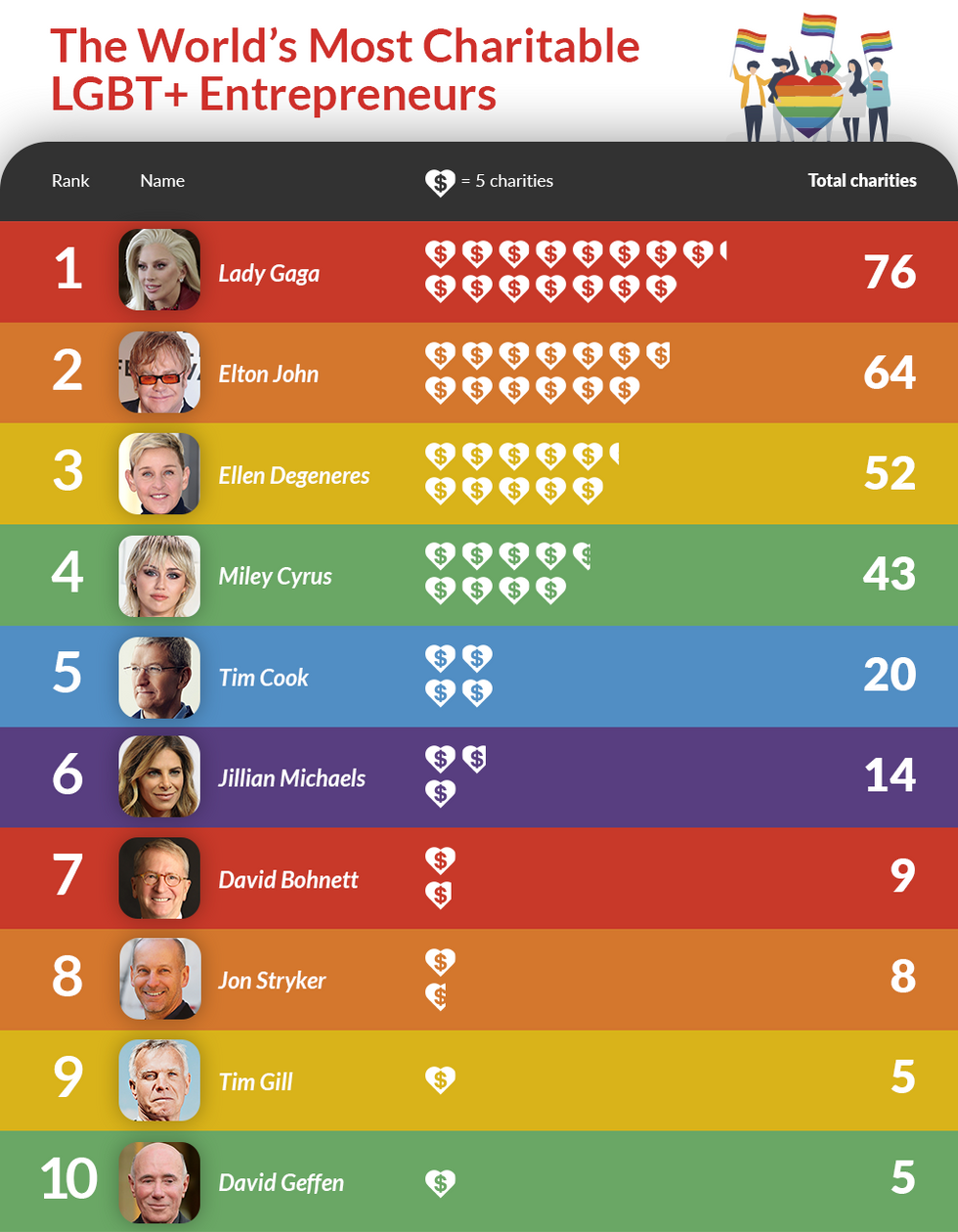 The World's Most Charitable LGBT+ EntrepreneursPhoto courtesy of JS3 Global
When it comes to generous givers, Lady Gaga came out on top with at least 76 charities registered to her name. Elsewhere, Elton John also proved himself a long-time philanthropist, donating to 64 good charities and counting.
While they had fewer charities registered publicly to their names, LGBT+ entrepreneurs such as Jon Stryker, Tim Gill, David Geffen, Jennifer Prtizker and David Bohnett have entire charity foundations made in their name that fund many charitable causes in the fields of social justice, LGBT+ protection, education and more meaning the actual number of charities they donate to likely far larger than what is publicly recorded.
Around 25 per cent of the good causes LGBT+ entrepreneurs donate to are children's charities, making it the most popular charity sector. This is followed closely by health charities, which made up 21 per cent of the charities donated to.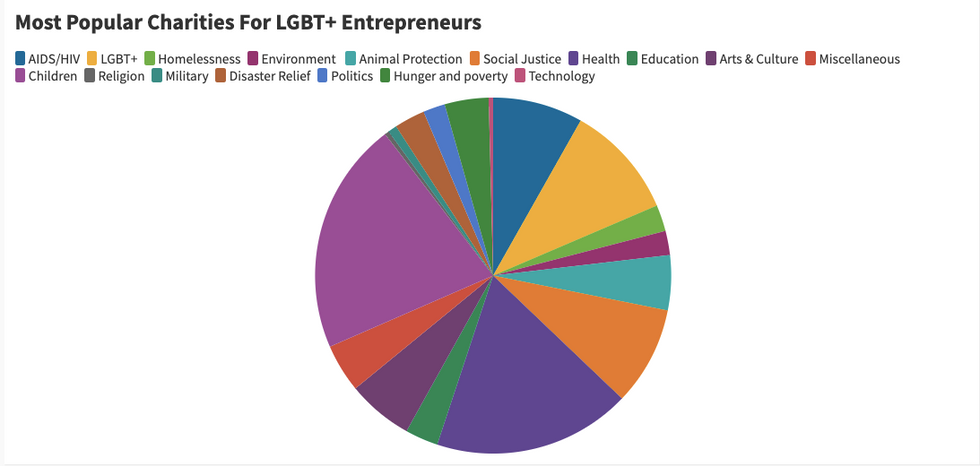 Most Popular Charities for LGBT+ EntrepreneursPhoto courtesy of JS3 Global
Joining health and children's charities in the top five were LGBT+ charities (12 per cent), wider social justice charities (10 per cent ), and charities involved with HIV/AIDS (10 per cent ). LGBT+ entrepreneurs are also enthusiastic about animal protection rights and arts and culture, as these were the sixth and seventh most popular charities to donate to respectively.
The most popular LGBT+ charity to donate to was GLAAD, while the most popular HIV/AIDS charity to donate to was The Elton John AIDS Foundation. Overall, LGBT+ entrepreneurs are very likely to donate to good causes related to LGBT+ issues.
So there you have it, an in-depth look at the world's most influential LGBT+ entrepreneurs. For more information on the results of our study, including how we conducted our research, get in touch.
For more information , visit JS3 Global's website here.